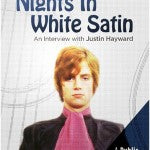 Mon, Feb 09, 15
New PBS Exclusive DVD Digs Deep Into The Story Behind Nights In White Satin!
During a recent interview between Justin Hayward of the Moody Blues and Michael Pinkus, executive producer of Justin's upcoming PBS special, Justin told an amazing tale.  Captured in a new PBS Exclusive DVD titled "The Story Behind Nights In White Satin" by award-winning director David Minasian, Justin reveals the circumstances surrounding his world-renown mega-hit.  Without being a spoiler, it seems the fate of The Moody Blues may have been forever altered by a delayed flight carrying The Supremes back in 1967! Really?
As it turned out, the release of 'Nights' in 1967 was so controversial, a top record executive at Decca Records resigned over it, exclaiming, as he cleared out his desk, that "the song would never work". Yet others at Decca loved it.  The song's polarizing effect puzzled it's young composer. "It was an odd thing", Justin exclaimed, as if he were talking about something as simple as the weather.
YOU can receive this amazing DVD and we promise you, it will be something you'll want to watch over and over again.  Featuring rare vintage footage of 'Nights' first ever live performance caught on film, 'The Story Behind Nights in White Satin' is just one of five Justin Hayward videos PBS is making available to its viewers. All you need to do is tune into your local PBS station starting February 28th, watch the incredible "Justin Hayward Spirits...Live" TV special and become or renew your membership with PBS.  It's that simple.
NOTE: IF YOU ARE OUT OF THE US, THESE NEW JUSTIN DVD'S WILL BE MADE AVAILABLE TO YOU.  WE WILL BE POSTING A SPECIAL WEB SITE SOON!