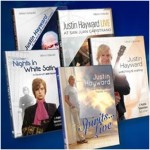 Fri, Feb 13, 15
PBS Announces "Justin Hayward's Ultimate DVD Collection"
Justin Hayward's "Spirits...Live" PBS television show is just around the corner. As the producer of the show, I can tell you it is AWESOME!
Justin has assembled a collection of five DVD's, called "The Ultimate Collection", that will be yours when you pledge to PBS. Included here are Justin's two newest DVD's "Watching and Waiting" and "The Story Behind Nights in White Satin", both of which are exclusive to PBS. (See previous postings for more information on these DVD's). 
Also part of this package are "Justin Hayward Live at San Juan Capistrano", "Justin Hayward Live at the Rock and Roll Hall of Fame" and of course, "Spirits...Live" DVD's. 
"San Juan" and "Hall of Fame" have been out of print for many years.  They are considered collector's items by many.  In these DVD's you will experience what Justin calls the 'time-capsule' effect of dozens of his songs, both electric and acoustic, along with an incredible interview of Justin, with rare home movies! 
Again, this "Ultimate Justin Hayward Collection" of five DVD's is a big 'thank you' from PBS and Justin when you pledge to become a Member of PBS (or renew your support to PBS). 
Continue to Watch and Wait for Justin's show to air on your local PBS station, beginning February 28th! 
(As a note, if you are outside the US, we will be posting a website where you can order these DVD's.)