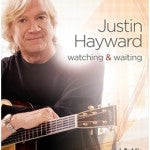 Mon, Feb 02, 15
Justin Hayward Unveils New DVD's for Upcoming National PBS Broadcast
We are very excited to announce that Justin Hayward has provided PBS with a beautiful collection of new DVD's featuring never-before-seen materials. These DVD's are exclusive only to PBS Members. During Justin's upcoming PBS concert "Spirits…Live" you will have the opportunity to become a Member of your local viewer-supported PBS station.  As a Member you will be given a choice of "thank you gifts" from Justin's show, which are simply outstanding!
One such DVD is titled "Watching and Waiting".  Here you'll get to see Justin live in concert--recorded recently before a sold out crowd--performing a magical set of songs.  One of the classics here includes the 1970 Moody Blues' "You Can Never Go Home", performed live for the very first time. Even Justin agrees this DVD captures one of his BEST performances.
"Watching and Waiting" is part of PBS's "Ultimate Justin Hayward Collection", a five DVD set, which you will be hearing more about soon.
Remember, you need to tune into Justin's show on PBS starting February 28th, 2015 and pledge to become (or renew) your Membership with PBS, to receive this awesome package!