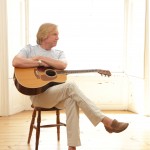 Thu, May 15, 14
Moody Blues' Justin Hayward plays at the Bardavon in Poughkeepsie on May 17
POUGHKEEPSIE >> In your wildest dreams, you couldn't imagine a more intimate setting for a concert with the man representing the voice of the Moody Blues.
In fact, there is no question about the perfect pairing of artist and venue.
Justin Hayward, the prolific singer and songwriter for the innovative English band that emerged in 1967, is set to take his fans on a musical journey that spans five decades at the Bardavon Opera House Saturday at 8 p.m.
The Poughkeepsie concert, Hayward said, will include classics like "Nights in White Satin" to songs from his latest solo project "Spirits of the Western Sky."
But the goal is keep it intimate, personal and meaningful for fans of all ages.
"I'm very pleased to be able to bring out my acoustic guitar, the format in our sets for this particular tour," Hayward said by phone in recent weeks from Genoa, Italy.
"I like the fact that I can hear and, dare I say, judge every nuance of it. I hope we can create some magic in the opera house."
While the tour shines the spotlight on the veteran rocker, Hayward will share the stage with young English guitar sensation Mike Dawes, who will open the show, and vocalist Julie Ragins, an artist from Fairbanks, Alaska, whom Hayward handpicked as a co-performer.
Most fans, however, will undoubtedly be paying to see the main act—a singer and songwriter who set a standard in classic rock music.
The English-born artist opened his solo spring tour in Pittsfield, Mass., on Tuesday and will wrap it up on June 13 in Richmond, Canada.
In between, he's done some tours with the Moody Blues in places like Westbury, N.Y., and Boston, Mass., and the band will continue touring throughout the summer.
The 67-year-old genteel artist, in fact, shows no signs of slowing down and said he never gets tired of the pace or the opportunity to make music.
"I think it might grow weary of me someday," he said ruefully of the searing and demanding rock industry.
"But for me, it's not a duty (to perform), and I feel I have some kind of obligation to the music and to the people who really like it," he said.
These days, Hayward is seeing a lot of couples at his concerts, particularly, those who came of age in the 1980s when the Moody Blues reemerged as a powerhouse with "The Other Side of Life," released in 1986.
That album, along with "Sur La Mer," which came out in 1988 and contained the hit single "I Know You're Out There Somewhere," is especially dear to Hayward because of where he was personally at that moment.
"It resonates at the time I enjoyed life most, and is the most precious to me," Hayward said of the song, which, like "Your Wildest Dreams" was written in his music room in London and performed on the same keyboard.
Many fans may be surprised to learn of his preference.
After all, Hayward and the Moody Blues are known by purists for songs like "Go Now," "Story In Your Eyes," "Question," "Tuesday Afternoon" and "Ride My See Saw."
The band sold more than 55 million albums—several going gold or platinum—and earned numerous awards like the NARM Number One World Group Award in 1972 and the Golden Ticket Award for the sale of 100,000 tickets at Madison Square Garden.
Of course, the Moodies' place in music history is undisputed, though they have yet to earn a spot in the Rock-and-Roll Hall of Fame in Cleveland, Ohio.
The band released its first full studio album, "Days of Future Passed" on Nov. 11, 1967, which stayed on the Billboard charts for more than two years, according to the website www.moodybluestoday.com.
It contained "Tuesday Afternoon" and one of the biggest-selling singles of all time, "Nights In White Satin," both of them written by Hayward.
"That song has a life of its own, and it's a pleasure to be the voice behind it," he said.
The lyrics reflected a bit of his love life at the time it was written in 1967 when Hayward was 19.
"I think…at that time…I was adoring women, and like most men, we turn to jelly in front of the ladies," he said with slight amusement.
"I was a young guy at the end of one big love affair. I'd been dumped and was at the beginning of another relationship."
After he crafted the song, Hayward ended up calling it what it is because of the white satin sheets another girlfriend had given him.
"They were very beautiful but very impractical," he said. "It was all of those things, and women were looming so large in my life at that time. Apart from that, the lyrics are a series of random thoughts that were going through my mind. I really do write letters I'm never meaning to send."
Today, his material is a tad more seasoned and mirrors his rich life experiences.
"The first few years of the band were a crazy time, and I was a bit stoned. While it was all very wonderful in the '60s, I hope I'm a little more rational now and can be a little more self-explanatory in the lyrics."
Overall, Hayward considers his career gratifying, and he deflects any sort of praise for his natural vocal talent—something he has coined "anatomical luck."
"I've never considered myself a singer," he said. "I'm more a songwriter and guitar player. The voice is a mysterious thing, and I don't know where that comes from."
While he has played in New York countless times, this will be his first Hudson Valley appearance, and Hayward said he's looking forward to those moments of transparency between him and the audience.
He enjoyed the moment and laughed when asked what his fans may not yet know about him.
"This is weird," Hayward said. "I like new old shoes, those kinds from the 60s and 70s made by retro companies."
In fact, he's bought a large number of both men's and women's vintage shoes and has built quite a collection.
"They're a fascination for me," the urbane performer admitted. "There's something about people's lips and their shoes that say something about them."