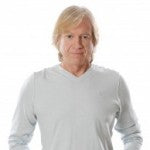 Thu, May 15, 14
Hayward brings Moody Blues favorites, solo tunes to BU
The sound of the Moody Blues — especially on legendary albums such as 1967's "Days of Future Passed" — combined rock and classical music into a multi-layered fusion that jump-started the progressive rock movement of the 1970s and beyond.
When lead guitarist and vocalist Justin Hayward stops at Binghamton University's Anderson Center on Monday for a solo performance, though, it'll be more of a stripped-down affair. He'll share the stage with guitarist Mike Dawes and singer Julie Ragins, playing songs from his 2013 album "Spirits of the Western Sky" as well as re-imagined Moodies tunes.
"It sure is quieter without those drummers thrashing away!" Hayward said with a laugh during an interview from Connecticut last week.
"It's like it's in my music room. I bring my home acoustic guitars out and let them see the world a bit. It's very nice — I hope there's something there for everybody."
The career of the Moody Blues stretches back to England's R&B scene of the early and mid-1960s, with Hayward signing on to the group in 1966 during a turn toward writing original material. Since then, the band has sold more than 71 million albums worldwide and has been awarded 14 platinum and gold discs — much of that through Hayward-penned hits such as "Nights in White Satin" and "Tuesday Afternoon" in the 1960s and "Your Wildest Dreams" and "I Know You're Out There Somewhere" in the 1980s.
Hayward also has released a half-dozen or so albums of his own in the past 40 years, starting with 1977's "Songwriter" — so when it comes to crafting a setlist for his concerts, there's no lack of things to choose from.
"It's never what you play — it's what you leave out, because there's so much material. I hope I've got the balance down right, so it should work out," he said. "We went out with this show last year, and after a few shows, we got it down to what should be in and what we could afford to leave out. I've just got to do a bit less talking and a bit more playing, that's all!"
"Spirits of the Western Sky" — Hayward's first solo effort since 1996's "The View From The Hill" — started as a collection of demos and evolved into a proper album after some encouragement from a studio engineer.
"I can't see a Moodies album looming on the horizon, and I have so much material," Hayward said. "I was spending so much time in the studio anyway, as the gatekeeper of the Moodies catalog, and Universal was coming to me to remix and master and 5.1 (surround sound) and DVDs and things like that. I'd had so many songs that I had collected, it was the engineer who said, 'Let's do it seriously — let's put it together properly.'"
The album's country/folk style seems inspired by (and includes tracks from) the two volumes of "Moody Bluegrass: A Nashville Tribute to the Moody Blues," released in 2004 and 2011, which featured guest appearances from current Moodies Hayward, John Lodge and Graeme Edge as well as former members Ray Thomas and Mike Pinder.
Highlights of "Spirits of the Western Sky" include songs of love and yearning such as "In Your Blue Eyes," "The Eastern Sun," "Western Sky" and "It's Cold Outside of Your Heart," which show that — at age 67 — Hayward has not lost his songwriting skills or vocal prowess.
The positive reception to the album from fans and critics encourages Hayward to pursue other solo projects in the near future; in the meanwhile, a live CD/DVD of last year's "Spirits" tour will be released this summer.
But although the Moody Blues still tour regularly together (and even took part in the second Moody Blues Cruise around the Caribbean with fans last month), a return to the recording studio seems unlikely anytime soon, because Hayward said it "requires a certain investment emotionally and financially." (2003's "December" was a holiday album, which makes 1999's "Strange Times" the last original Moodies project.)
"I think, in truth, we talked about things on the bus a couple of years ago, when I was doing all of this remastering, about how much stuff we had in the catalog and how little time we'd actually enjoyed those songs ourselves," he said.
"At the moment, we're just enjoying rediscovering parts of our catalog that we'd only ever worked on for two or three days. These recordings, you make them and, yes, they go out into the world and they develop a life of their own — but for musicians like myself and Graham and John who play on them, they're just a couple of days' work and then you move on to the next thing.
"These last couple of years with the Moodies has been wonderful rediscovering a lot of that catalog and playing it for the first time on the stage. Being the people who recorded it and the voices who sang on it, it's very nice."