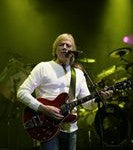 Tue, May 13, 14
Moody Blues Frontman Justin Hayward Coming To San Antonio
TPR.Org
One of the most successful of the post-British Invasion bands was the Moody Blues. I spoke recently to the group's front man, Justin Hayward.
We had a really difficult time connecting and he graciously took responsibility. He's coming to the Charline McCombs Theater later this month, but not so much as a singer in a rock 'n' roll band.
"We're doing things new and old, based on the 'Spirits of the Western Sky' album," he said.
"Spirits" is Hayward's solo album. I asked Hayward to elaborate on what audiences can expect.
"It's acoustic set with a guitar player called Mike Dawes," said Hayward. "Me and Mike and Julie Ragins."
And they'll play a few Moody Blues songs as well, but without drums. I asked Hayward about being there in 1967 as a symphony recorded their parts for the legendary "Days of Future Passed" debut album.
"I knew it was really something. What, I didn't know," Hayward said. "I thought we were making some limited-appeal arty album."
The Moody Blues played the Isle of Wight in 1970, and you can watch that concert on Youtube. I did, and I noticed that Hayward didn't smile the entire performance. I asked what was up with that.
"No, I didn't smile. I was a miserable bugger," Hayward said. "I still am, you know, really. It's just what my mother used to call a 'cast of countenance.' I'm just stuck with that face. That particular day I was very tired, I hadn't slept the night before. I was pretty stoned. It was a tough crowd. But to our surprise, they absolutely loved us."
Somehow, that doesn't seem too surprising.