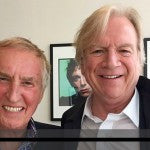 Mon, Apr 20, 15
Justin Talks with BBC's Radio Johnnie Walker's Sound of the 70's
BBC.co.uk
Moody Blues singer and guitarist Justin Hayward joins Johnnie for a chat about the bands classic hits including Nights in White Satin which was re-released in late 1972.
Justin talks about how the song still moves him to tears and how the band created their famous sound with the Mellotron keyboard.
Also on the show, Johnnie digs out some of the best of the BBC archive. Plus another listener helps to add a classic seven-inch single into Johnnie's Jukebox.
Listen to the full interview HERE.  Justin's interview begins at 1:12 into the program.