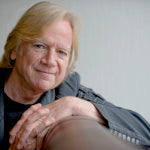 Sun, Apr 12, 15
Justin Hayward Recalls the Incredible '80s-Era Rebirth of the Moody Blues
UltimateClassicRock.com The Moody Blues had already pulled off a successful second act when the '80s heralded a third.
First came a late-'60s reshuffling, after the initial success of their single "Go Now," which charted at No. 1 in the U.K. and at No. 10 in the U.S. in 1965. The Moody Blues returned with guitarist/vocalist Justin Hayward and bassist/vocalist John Lodge as new additions and a new album, 1967′s Days of Future Passed, which would become a landmark release in the group's catalog. This revised lineup churned out a total of seven albums through 1972, before taking a break to pursue individual activities.
The English classic rockers subsequently retooled again, only to score a No. 1 album in 1981 with Long Distance Voyager, adding two more hits, "The Voice" and "Gemini Dream" to their catalog. It took a label switch and a new producer, however, to up the ante once more. The Moody Blues cut The Other Side of Life with Tony Visconti, and found themselves heading back up the charts with 1986′s "Your Wildest Dreams," something which Hayward says he thought was "almost a throwaway song." Instead, it lifted the Moody Blues into the Top 10 of the Billboard charts for the first time since Days of Future Passed in 1967. Further success would follow with the Visconti-produced Sur La Mer album in 1988 and the single "I Know You're Out There Somewhere," which featured a video that wisely carried forward an earlier storyline from "Your Wildest Dreams."
"'Your Wildest Dreams' had given us the greatest gift — to have a hit and be recognized on MTV and stuff when you're hitting 40 was marvelous," Hayward recalled during a 2013 conversation with Ultimate Classic Rock. "And straight — I wasn't even stoned in the '80s that much. … I missed it in the '60s!"
A 1992 symphonic performance with an orchestra at Red Rocks, captured for a live video and album, kept the forward momentum going for the group. The Moody Blues subsequently launched a tour where they played worldwide with local orchestras. A recent box set, The Polydor Years: 1986-1992, collects musical memories and previously unheard tracks from this late '80s renaissance. Now, the band is back on the road this year touring to support the new release.
Hayward will also be continuing to tour solo during breaks in the Moody Blues' touring schedule and, as he told us in the interview below, it's going to be a busy year. He will be playing shows for at least eight months, both with and without the Moody Blues. Fans can get a glimpse of Hayward's solo show via the Spirits … Live concert special currently airing on PBS. The performance was filmed at the Buckhead Theatre in Atlanta in 2013 on the final night of Hayward's initial round of solo dates supporting Spirits Of The Western Sky, a solo album released earlier that same year.
We caught up with Hayward prior to Moody Blues soundcheck to talk about the band's renewed success in the late '80s and early '90s, his successful solo tours and what's on his schedule for this year.
Watch the Moody Blues' Video for 'I Know You're Out There Somewhere'
You're back out on the road this year with a new box set added to the catalog. Songs like "The Wildest Dreams," "The Other Side of Life" and "I Know You're Out There Somewhere" have been constants in the setlist over the years. You guys have always been good about adding a deeper cut or two to the set with each tour. I was curious to know whether this current tour has anything interesting and perhaps off the beaten path a bit, from those later Polydor albums.
Well, there are a couple of things. As a matter of fact, I'm going over there in about 45 minutes to rehearse a couple of things up. But I don't quite know what they are yet. I think I've got a couple of things in mind and so we'll just see how it goes. But it's nice to concentrate on that particular time in our career, because it was a very lucky time for us.
It was wonderful to have that chance at success a second time around, with what was to us, a new label. Because Decca was sold and we were sold with Decca, to Polygram. It didn't start too well with The Present, but then with "Your Wildest Dreams" and "The Other Side of Life," it just got brilliant, you know, beyond our wildest dreams, really.