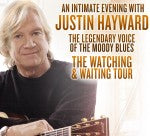 Wed, Apr 22, 15
JUSTIN HAYWARD ANNOUNCES SUMMER 2015 NORTHEAST TOUR DATES
Justin Hayward, esteemed vocalist, lead guitarist, and composer of the Moody Blues, will embark on a northeast solo tour of North America this August, following a UK run in July.
"We are so looking forward to this tour," exclaims Hayward. "Julie Ragins [keyboardist/background vocalist], Mike Dawes [acoustic guitar], and I have been overwhelmed by the reception of our live shows during this last year in the USA. To hear every nuance of my acoustic guitars (they are on the road for the first time) and our voices in these venues is a joy. And the USA, like me, is discovering what a fabulous guitar player Mike Dawes is, and I look forward to hearing him play every night too."
Hayward followed the release of his latest album of new songs Spirits Of The Western Sky (Eagle Rock) with several solo tours. The live DVD, CD, and Blu-ray Spirits…Live - Live At The Buckhead Theatre (Eagle Rock Entertainment) was recorded in Atlanta, GA on August 17, 2013, and reached Number 1 on the Billboard Video Chart. This concert film also premiered nationwide on PBS in March 2015, and will continue to air through the year.
"It is a privilege and honor that PBS is broadcasting my live show as part of their pledge drives," adds Hayward. "PBS has always meant a lot to me - not only for the quality of its programming but for its news, independence, and integrity…a true great comfort to me while I'm on the road."
Performing and recording for more than 40 years with The Moody Blues, Hayward wrote such beloved songs as "Nights In White Satin," "Tuesday Afternoon," "Question," "The Voice," and "Your Wildest Dreams." His prolific songwriting helped earn the band over 60 million albums sold.
Click here to view video of "Nights In White Satin": https://www.youtube.com/watch?v=ffyHZ556ncE
Justin Hayward will perform at the following venues (more to be announced soon):