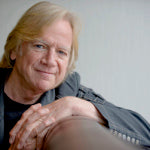 Wed, Mar 25, 15
Moody Blues Making Music On The Other Side Of Life
F. Scott Fitzgerald once famously said that there are no second acts. Apparently, the erstwhile Great Gatsby author never crossed paths with The Moody Blues, who are currently touring and playing long after their 1964 founding. Emerging out of Swinging London in the late '60s, the fivesome were known for recording symphonic conceptual albums like Days of Future Passed, In Search of the Lost Chord and A Question of Balance. Within the grooves of these albums, classical music arrangements were married to accessible songs that yielded a boatload of hits that included "Nights In White Satin," "The Story In Your Eyes," "Ride My See-Saw" and "I'm Just a Singer (In a Rock and Roll Band)." And while the band's star dimmed somewhat in the early '80s, the band did enjoy that second act thanks to the success of 1986's Tony Visconti-produced , which introduced this Baby Boomer favorite to a new generation of fans through some memorable music videos and hit songs like "Your Wildest Dream" and the title track. And all throughout, the band's loyal fan base has ensured demand for live shows year in and year out. It's all a fact that Moody's frontman Justin Hayward is well aware of when he's asked about the band's '80s comeback.
"It was a time when Polydor and Polygram had taken over Decca and all the old masters and they had a very different kind of ethic. It was very whizzy where they wanted to go [grab that success]. There were all sorts of promo guys doing that kind of stuff and they gave us a budget to make a couple of great videos and it really paid off for us," Hayward recalled on the phone from his office in France. "We had the right song with 'Wildest Dream' and we had the right video director and everything just fell into place. It was a great time and to have success the second time around in your life was really a great gift."
That kind of ardor for what The Moody Blues have been doing all these years extends to Hayward's work as a solo artist whose 1977 debutSongwriter came out two years after Blue Jays, a project he recorded with band mate John Lodge during a Moody Blues hiatus. Fast forward to 2015 and PBS is currently airing Justin Hayward's Spirits…Live, a special that finds him mixing his own material with classics from his musical day job, with help from guitarist Mike Dawes and keyboardist Julie Ragins. Approached by the public television network after a solo acoustic show he did in Minneapolis, Hayward was thrilled to jump aboard the fundraising train when asked.
"I've always been a fan of Austin City Limits and live music programs like that. I also like the fact that these shows don't involve massive production and it's usually something quite intimate. It rolled on from there and the next thing I know, they'd given me this great gift of this PBS show, which is absolutely wonderful. I'm really impressed with them. Their production has been really great," he explained. "It's based on a DVD that I did last year called Spirits Live. So it's a lot of the material from the solo album of new songs that I had out called Spirits of the Western Sky. There's a bonus DVD that PBS is using for their pledge drive of another concert where I do a whole different load of songs that are interesting too. So [this special] is based on Spirits and the original versions of Moody songs the way that I played them to the other guys.
But right now, Hayward is on the road with fellow Moodys Lodge and Graeme Edge in support of the 8-CD The Polydor Years: 1986-1992 box set. And while he declined to help compile it, "I was so busy with my own solo stuff, so I told [the label] I was taking a pass…," the 68-year-old rock legend is thrilled with the end result.
"There were a couple of young guys over at Universal and they did a great job finding stuff that I thought I was the only person that ever had it. It was in my cave and I wasn't going to let anybody else have it, but they found copies of it. I'm very pleased [and while] I can't claim anything to do with it, I'm very pleased that it's out there," he said.
With the last proper Moody Blues album of all original studio material being 1999's Strange Times, Hayward is unsure if and when the band will be releasing an album of new material.
"I've got a feeling that the next big Moodys project will be a sort of audio/visual thing," Hayward explained. "But I think that it will be that kind of thing because I think that's what we feel is wanted from us. I don't think any of us want to put another album out that's kind of lumped onto another greatest hits. Everybody says the [new stuff] is great, but let's talk about what you did in 1967."
One thing the former member of The Wilde Three is grateful for is a fan base that continues to allow him and his band mates to do what they love most.
"We've had so many ups and downs and we're at that stage in our lives and careers where it's like a gift now for everyone to be able to have the opportunity to come out with a great band like the Moodys to do the music properly," Hayward said. "And for me, as a solo player as well, to have promoters want to book me and to do solo tours, I'm very grateful. But the music business has changed so much and we have no right to be here, but I'm certainly glad we are."
The Moody Blues will be appearing on March 27 through March 29 at NYCB Theatre in Westbury, 960 Brush Hollow Rd., Westbury. For more information, please call 877-598-8497 or visit www.livenation.com. (To see Justin Hayward's favorite Moody Blues albums, please click here)