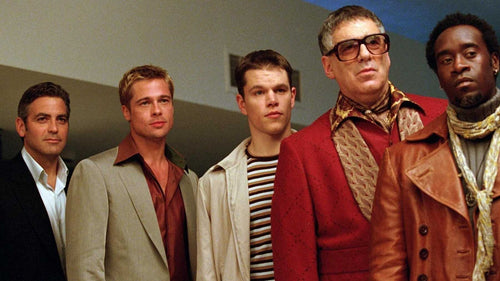 Fri, Jun 01, 01
From Justin: The cast of Oceans Eleven
May/June 2001
Well, the boat trip was great, the band was really tight, on both shows, even though we were without Bias and Tracy. The Costa Atlantica is a fabulous ship, excellent accommodation and services, and we were treated like - well, stars. Can you imagine - twelve stories high with three pools, a casino, a gym [thank goodness] and lots of restaurants. What a wonderful way to finish off a great tour.
I hope all the Moodies fans enjoyed the Paris in Vegas as much as we did. What a huge stage, I suppose it's for the spectacular shows they have there, and the dressing rooms - big and comfortable. While we were there one of our ex managers, Jerry Wintraub, who is now a movie producer, was shooting the new film ""Oceans Eleven" at the Bellagio hotel. He came to see us at the Paris and said ''Hey Jus, come on over and meet the cast tomorrow". I thought nothing more of it until the next day he called and said "where are you, they all want to say hello" . So over I went to the set in the casino and there they were shooting a scene about the night of the big robbery that they stage in the movie.
Steven Soderberg the director, Brad Pitt, Andy Garcia and Julia Roberts. Well, they were all charming. Brad said he was a musician [guitar player] and we chatted about music. Andy told me of the love he and his wife had for Europe and did I think they would be accepted in London. I said he would of course be welcomed anywhere in Europe, and he should come more often. What a bright intelligent man he is. I've always been a fan and now even more so. Julia is beautiful, she seemed engrossed in her performance and I'm afraid the Hayward charm, whatever that is, didn't work too well on her. But anyway Jerry is now probably the biggest star in his own way ,of them all, and while he was showing me the villas that his stars were living in [all identical-egos you know] we had great fun going down memory lane and remembering all the fun and laughs, trials and tribulations of the seventies, the time he was with us.
From there our trip through Texas, Louisiana, Alabama, Mississippi and Georgia was hectic but great, meeting many old friends and being surprised and flattered at the number of fans who did every gig with us. Florida was the icing on the cake though, and the promoters were excellent, and even the Hard Rock [which everyone had said before "what. playing in a cafe"] was perfect, a great theatre with a nice sound.
I'm working with Alberto and Danilo at the moment transferring all our old masters, recordings from the sixties and seventies, from tape, which is deteriorating, to hard disc. Now that is another trip through Days Passed.
My mystery collaboration is coming along fine too. More soon!
Love Jus.