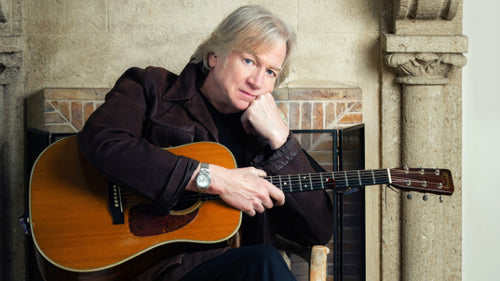 Mon, Jul 01, 02
From Justin: Highlights from Cleveland
July 2002
The last few weeks, since the British Tour, have been a frantic whirl of traveling, working, flying, driving and business. Somewhere in there I have been trying to mix what I can of the new Moodies material, which is fab!
My trip to Cleveland was a real adventure, mostly because I was in the presence of two Shaman who came all the way from their villages on the banks of the Amazon in Columbia, to help in the effort the Amazon Conservation Team is making to preserve and record their knowledge. I was so pleased and relieved to see so many of you there for the benefit dinner and the next night of "master class" at the Rock and Roll Hall of Fame. Wasn't the Chilean flute player, who did the Nights solo wonderful? What a beautiful and emotional sound he made. By the way, when someone asked me what my favourite flower was I sarcastically said Fuschia. I know it's not a flower, it's a flowering shrub which I have been cultivating with some mixed success. I don't have a favourite flower, honestly.
I then stayed on with friends in Cleveland after the event to share a night of the Healing Ceremony with the Shaman (one of whom is 92 years old) and it was so beautiful. Psychedelic, pure, fun and spiritual all at the same time. Yes! like the 60's again. I loved every moment, and felt fresher than I had done for years, even though none of us had any sleep. Who would want to sleep when they could be part of that kind of magic?
Then home again for a couple of days and off to Athens in Greece with Mario Frangoulis, who has recorded a wonderful version of Nights. After rehearsing in Athens we all (110 people) took a flight to Thesaloniki for the concerts that were being filmed by Sony for Mario's P.B.S. show and lots of other TV channels around the world. He is a truly great artist with a wonderful voice and is much loved in his homeland. Now Sony are trying to turn the rest of the world on to him. It's only a matter of time. The setting for the concert was an open air amphitheater seating 6500. We started at 9.30 p.m. and finished at 2.15 a.m. and everyone had a ball (they stay up late in Greece). The film was directed by David Mallett, a very good friend of the band, who we have worked with in television (the Kenny Everett Show and numerous music shows for T.V. as well as videos). Please look out for Mario's L.P. I truly love it, and I'm sure I'll work with him some more in the future.
After I'm done mixing here in the studio, I'm to be part of another project, with Alan Simon (from Excalibur fame and producer of Roger Hodgson etc.).
More on that next time.
Love Jus.
Here is a quote I found by Edith Wharton
"Every artist works, like the Gobelin weavers, on the wrong side of the tapestry, and if now and then he comes round to the right side, and catches what seems a happy glow of colour and a firm sweep of design, he must instantly retreat again".