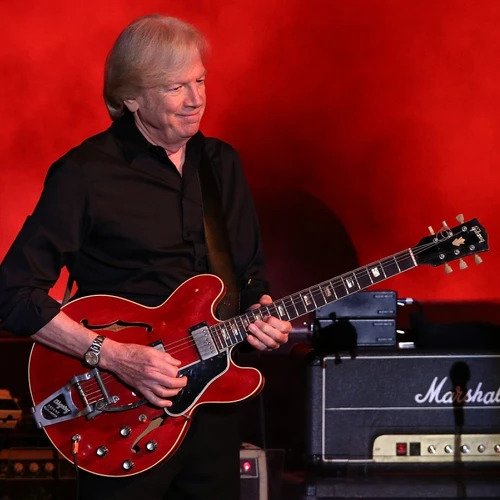 Mon, Jun 20, 16
Steve Smith: Moody Blues' Hayward lovely at the Rose
A true rock music legend, Moody Blues singer-songwriter-guitarist Justin Hayward is on a brief solo West Coast jaunt he calls the Stage Door Tour.
Saturday night, that tour stopped at the Rose, Old Town Pasadena's new concert club.
The 69-year-old Hayward's set can be described in one word: lovely. It was an evening of acoustic loveliness.
He was backed by young English guitar virtuoso Mike Dawes and backup singing keyboardist Julie Ragins, who has been a member of The Moodys touring band for the past decade.
Hayward presented a 14-song showcase that included iconic hits (his show opener "Tuesday Afternoon," "Nights in White Satin," "Question" and "Your Wildest Dreams" and the evening's encore, "I Know You're Out There Somewhere," that reached No. 2 on the adult contemporary chart in 1988) with deeper cuts ("Never Comes the Day" and "Lovely to See You"). There was also a handful of solo odes – every one of them, yes, lovely.
Among the solo song standouts was "The Wind of Heaven," a brand-new song he wrote that will serve as the theme song for an upcoming motion picture about a damaged veteran from his service in Afghanistan who is only able to find peace raising horses in Montana. He also did a cover by Jeff Wayne, "Forever Autumn," that sounds like pure Hayward and was a hit in 1978 everywhere … but here. Lovely.
Hayward's marvelous, instantly-identifiable voice – the voice that led his classic Moody Blues songs "Gypsy," "The Actor," "You and Me," and so many others – remains unchanged from the time he joined that band late in 1966.
Dawes opened the evening with a brief three-song instrumental set highlighted by his take on Gotye's 2011 No. 1 smash, "Somebody That I Used to Know" (when Dawes posted his version on YouTube, it received 2 million plays the first day).
The recently-opened Rose, in Paseo Pasadena across the street from the Pasadena Civic on Green Street, is a spacious venue that comfortably seats several hundred, and serves what looked to be a fine bill of fare at reasonable prices with quick, friendly service. It's also so new that is can still be consider a work in progress; just a wee kink here and there that they're working on.