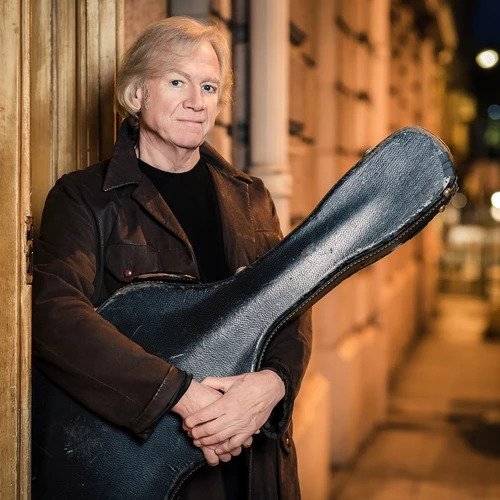 Fri, Jun 10, 16
Moody Blues guitarist makes stop at Canyon Club
A rock 'n' roll icon, Justin Hayward, is coming to the cavernous Canyon Club in Agoura Hills, offering a musical alternative to must-see Sunday night cable TV. Unlike bonding with the remote, going to a show requires some actual motivation and movement, but the reward will be the opportunity to see and hear many of the awesome songs from one of the grossly underappreciated bands of all time, the Moody Blues.
A band since 1964 and a great band since 1966, Hayward is the guitar player, who also wrote a bunch of the band's hit tunes. Fifty years later the Moody Blues remain the answer to the unasked question: Why ain't they in the Rock `n' Roll Hall of Fame? The Moody Blues have sold more than 70 million albums or about a trillion more than the Sex Pistols.
The British Invasion was sort of a musical version of selling the Brooklyn Bridge to a sucker, in that young Brits took an indigenous American art form — the blues — added their own spin and sold it back to the colonies. Almost all those early bands — the Beatles, the Rolling Stones, the Animals, Fleetwood Mac — all started as blues bands. Perhaps the band's name — the Moody Blues — was a hint as their first hit, "Go Now," although not a straight up blues song, certainly is nothing like what followed.
Hayward, with a recommendation from none other than Eric Burdon of the Animals, along with another new guy, bass player John Lodge, joined the original trio of Mike Pinder, Ray Thomas and Graeme Edge in 1966. As one, they soon realized they were tired of trying to be the flavor the week and decided to play original songs. Their first hit album, "Days of Future Passed" from 1967 was the result. It includes two songs that even to this day live long and prosper on classic rock radio — big hits written by a teenage Hayward, "Tuesday Afternoon" and "Nights in White Satin."
The Moody Blues got into a groove almost without equal in the history of rock 'n' roll. "Days of Future Passed" in 1967 kicked off a seven-album avalanche of unparalleled talent through "Seventh Sojourn" in 1972. Yeah, seven albums — seven great albums — in five years. The band clearly was not on rock 'n' roll time. Allowing themselves to be themselves was aided and abetted by starting their own label, Threshold Records as Decca was getting all whiny about their elaborate arty album covers.
Then there's the music. Just as way too many bands have no good singers, although some lucky ones have a good one, the Moody Blues had four — Hayward, Lodge, Thomas and Pinder — maybe five — Edge, the drummer, could also hold his own.
These guys also knew what a good song should sound like — especially Hayward, who penned many of the band's memorable songs, including "Question," "Lovely to See You" and "Never Comes the Day." So, there's no screaming, no endless, mindless and senseless drum solos or for that matter, guitar solos. This stuff has had many names — progressive rock or prog rock, art rock and classical rock. Whatever it is, Mike Pinder's Mellotron — a high tech keyboard capable of all sorts of trippy stuff — surely played a large role in Moody music. The Mellotron moment in "Melancholy Man" will threaten the life of your speakers whenever you're feeling dangerous (or even melancholy) and crank up the song. Genesis, King Crimson and even the Beatles created their own Mellotron magic.
The Moody Blues didn't do the "sky-is-blue-I-love-you-whoop-dee-doo" stuff, but rather attempted to answer the big questions — the same ones you're asked to consider in Philosophy 101. Hayward in — imagine this — "Question," left us with this to ponder: "Why do we never get an answer when we're knocking at the door. There's a thousand million questions about hate and death and war, when we stop and look around us, there's nothing that we need in a world of persecution that is burning in its greed." If you value the power of ideals, and voted for Bernie, you'll love the Moody Blues, if you don't already.
With the soaring harmonies and musicianship tighter than your boss, it was just a matter of time before the obvious came to pass — sort of like when those dense Hollywood whistleheads finally decided that a "Star Trek" movie might be a good idea. The Moodys played a bunch of gigs with local symphonies, including a memorable show at the Santa Barbara County Bowl in 2009. Don't recall that Sex Pistols symphony tour.
Of course, it was well-crafted art rock like this, along with Ronald Reagan, and too much time on their hands that originally pissed off the punks, inspiring them to embrace the DIY ethic. Thus far Black Flag has never covered any Moody melodies or vice versa.
Never a bunch of hopeless hippies, dazed and confused in perpetual pursuit of Groovy, Farout and Bitchin,' the Moody Blues were more than some geezers of rock living in the '60s. They had several hits in the '80s, including the albums, "Long Distance Voyager" and "The Other Side of Life."
The Moody Blues still tour now and again with three of the originals — Hayward, Lodge and Edge plus a stellar backup band. But as to Hayward, he's living proof that blonds — at least this one — have more fun. He also won't run out of tunes to play in Agoura — in addition to all the band stuff, Hayward has half a dozen solo albums.
What follows are the obvious limitations of an email interview as Hayward was under the weather and could not do a phoner. His songs are longer than his answers or the patience of those creepy dead people on "Game of Thrones."
---
What's the latest in your world as to the Stage Door Tour?
New song, "The Wind Of Heaven."
So, still doing this for 50 years — think you might give it another week or two?
I never know, I never have, but I love playing and singing and I don't know how to do anything else: "All I can do is this," which is from "What You Resist Persists," off my album, "Spirits of the Western Sky."
The road is 90 percent boredom and 10 percent frantic activity (your words), so what's your survival formula?
Try to keep fit. Never easy, spending hours on a bus.
Any place you haven't been to yet that might be fun?
South America.
What's up with the band — last time I saw you guys, there was three originals — still at it?
Yup, and all enjoying it.
What was it like being a rock star in those silly '60s?
We weren't rock stars — the music was the star. It took a long time for us to make it and Ray (Thomas) and I realized we may have done that one day in '73 when we played Madison Square Garden twice in one day. Between shows we went out on the street and saw our name 50 feet high, so we bought some tickets off a scalper and gave them away to whoever was looking for some — no one recognized us. I imagine when those people saw us on stage they might have said, "Isn't that …?"