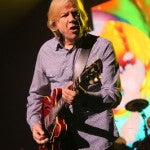 Tue, Mar 18, 14
Rock legend Justin Hayward on The Moody Blues Cruise II: Sail of the century
Justin Hayward[/caption] For over 40 years a certain legendary group has been steadfastly maintaining that they're just singers in a rock and roll band. But having been uplifted, inspired and edified by their insightful musical tales of love, compassion and peace, The Moody Blues' millions of worldwide followers know otherwise.
The world renowned band will give a few thousand of their ecstatic fans a chance to hear them up close and personal as they sail the Caribbean with The Moodies April 2-7, 2014 on The Moody Blues Cruise II. And having been on the first Moodies Cruise, this humble music journalist can definitely say that it's a once in a lifetime happening – well, maybe twice in a lifetime.
The Moodies Cruise returns this year with fellow Isle of Wight Festival alums Roger Daltrey of The Who, Carl Palmer of ELP, Lighthouse and Shawn Phillips. The Cruise rounds out the exceptional lineup with The Zombies, The Orchestra starring ELO, Starship, Little River Band and other notable '60s, '70s and '80s artists. And of course, there are those "trifling" stops in the Bahamas and Grand Turk.
Since they first hit the rock scene with the release of their colossal 1967 album "Days Of Future Passed," The Moodies have produced music that bridges the gap between classical and pop-rock genres, including a top-selling string of brilliant concept albums, "In Search Of The Lost Chord," "On The Threshold Of A Dream," "To Our Children's Children's Children," "A Question Of Balance," "Every Good Boy Deserves Favour" and "Seventh Sojourn."
Uniting the prodigious musical gifts of guitarist/vocalist Justin Hayward, bassist/vocalist John Lodge and drummer Graeme Edge, the group has sold an extraordinary 70 million albums worldwide and has been awarded an astonishing 14 platinum and gold discs, making them one of the top-grossing album and touring bands in existence.
The iconic rockers continue to influence contemporary song with a staggering array of hits, including "Nights In White Satin," "Tuesday Afternoon," "Ride My See-Saw," "The Story In Your Eyes," "Isn't Life Strange," "Question," "I'm Just A Singer (In A Rock And Roll Band)," "Your Wildest Dreams," and "I Know You're Out There Somewhere," to name a few.
The insightful composer of many of those masterpieces, Justin Hayward, chatted with me recently about the band's extraordinary career and their upcoming roles as "long distance voyagers."
The fellows have played to millions of fans at thousands of shows. But the experience of playing to the cream of The Moodies crop can certainly make for a bit of different experience – just think of taking the mostpassionate of those millions of fans at the thousands of shows and putting them in the same room.
"Well, it's a little bit more intense," admitted Hayward, "because as you've intimated there, most of the people on the cruise know a lot about The Moody Blues and they're interested in the details. I enjoy the question and answer things and the interaction with people just as much as I do the concerts, really."
"I realized on that first cruise, it wasn't just some concerts and some fans. It was really people who The Moody Blues are a big part of their lives and I appreciate that. It's as much about them being together and talking and enjoying their own company as it is about what we can give and what we can bring."
"But yeah, I have to say before the first one, I wasn't sure it was the right thing to do. Afterwards, I thought, 'This is not about us so much. It's about people that love The Moodies.' This is a place where everyone can come together and it's warm, it's comfortable. So let's hope it will be nice. It certainly was last time."
The cruisers will no doubt be overjoyed to have The Moody Blues play just about anything – put music to the cruise itinerary and it will be the band's next best-seller. But they'll be particularly animated about this year's set list given the Isle of Wight theme.
"We'll be looking at that as soon as we get back on the road. Because they came up with the idea of focusing around the Isle of Wight concerts, we'll be looking at that. I don't know whether we'll be bringing the whole group to redo that. But certainly for the three of us we can do that and really focus on those songs, bring those songs that were in that set back to life."
"And of course now with Murray Lerner and Roger there, it adds a lot more relevance, really. Murray Lerner filmed the movie that turned into a DVD, and also the original film of '(Message to Love) The Isle of Wight (Festival),' which was a good movie at the time."
The musical reunion provides the artists with a rare chance to be fans themselves as they catch up with their old pals and peers. "The nice part for us," agreed Hayward, "is the times we meet up together because they set aside parts of the boat that the artists can go."
"But the most important thing of what we do is make our shows good, make the interaction with the fans good and that we all have some good times and some song. And it's nice that it's warm. Somebody said to me the other day, 'Hey, cruising around the Isle of Wight, that's gonna be cold (laughing)."
With nary a humdrum band aboard, the music promises to be beyond belief. But the music may not even be the most memorable aspect of the cruise. Last year's cruise featured Hayward's intimate solo album release party, Lodge's wine tasting event and Edge's poetry reading. And there are sure to be more surprises on this year's cruise.
"The itinerary of it is just being put together now," professed Hayward. "Try and stop me from doing some of my own songs, Kevin, that'll be tough. So I'll be back out there with a couple acoustic guitars and my guitar pick and giving it what for. I enjoy doing stuff with acoustic guitar, as I do on my solo tour. So I'm sure I'll be doing that again. Whether the other guys can still flaunt their stuff, I don't know (laughing)."
Take it from this Moody Blues Cruise alumnus, the English gents can still bring it. The band's loyal legions never tire of hearing their legendary hits – and as Hayward affirmed, The Moodies never tire of playing them.
"You know, it's a sort of cliché, but I think the crowd brings that every night. But I don't think we could get off stage without playing about a half dozen numbers that people really want to hear, 'Nights (In White Satin),' 'Tuesday (Afternoon),' '(Ride My) See-Saw,' those kinds of things. And that's a pleasure to be part of."
"A couple years ago I was sent a copy of 'Nights,' a version by a lady called Bettye LaVette. And I put it on and I was so touched by it because it was like the first time I'd ever heard the lyrics and what they meant."
"These songs have a life of their own, like spirits that go out into the world and seem to interact with people and move in and out of people's lives. That's something to be respected and to share and I certainly enjoy sharing it, that's for sure. I haven't got tired of it yet. As long as there's somebody willing to buy a ticket to hear me sing it, and to see the band, that's just fine with me."
It's certainly a daunting task to select a single highpoint from the first Moodies Cruise, but the acoustic sets from Hayward, Lodge and Edge would get more than a few votes. The stripped down versions allow for the audience to appreciate musical nuances that might be missed otherwise. Hayward spoke of the differing musical dynamics from the artist's perspective.
"Performing live is very different than working in the studio where you can isolate things and get your own nice little mix. On stage, particularly in The Moodies, we've got to bring everything to the level of the two drummers. So the nuances are harder to get. You have to give every song a harder edge and try and compete and lift it up in level."
"And I love that. Don't get me wrong, I love those kinds of things. But I found with my solo tour, I was able to sometimes just be one guitar. It gets to the purity and the real sweetness of the song easier."
"But both things are magical and we are very lucky to be part of that kind of magic. We really are. We're fortunate to be in a time when beautiful guitars are made and lovely acoustic guitars. They are so sweet when you can hear them clearly and brightly and I really enjoy that."
"That's how I came to The Moodies with acoustic guitar. And right from the beginning, it was always on 'Nights,' on 'Tuesday' and all of that stuff. It was part of the band. And it was very difficult, playing and trying to get that on the stage. It wasn't 'til the '80s when people were really able to use acoustic guitar with the drum kick on stage and it made a big difference."
As any devoted fan will know, Moody Blues music is filled with delightful nuance. A number of their songs include remarkable orchestration. As a gifted songwriter, Hayward has an innate ability to know when the otherwise mind boggling orchestration begins to overwhelm his musical message.
"Well, that's a very good point because the more time you spend on a song and the more you enjoy it, the more you get into it, the more you want to use every little phrase that you thought of around the arrangements. Sometimes less is more, really, and what you leave out."
"I was talking to a friend in France who doesn't speak much English. So when we talk, we're in 'songlese.' We're in a mixture of the two. He loved my album. I gave him a copy and he didn't know that much about The Moodies. But I gave him a copy and he mentioned it to me after he listened to it a few times and thanked me very much."
"And then he said that, 'The only problem I have is that because my English isn't that good, I find acoustic music a lot more accessible than the stuff with a big arrangements. And I thought, 'Oh that's really quite interesting.' But the French like simple things anyway. For them it's just about the words and it's a kind of poetry. Their kind of pop music is different."
"But I do know what you mean. Every string arranger that I've ever worked with, they'll always give you too much and then they'll say, 'Well, leave out what you don't like.' And I said, 'Well, I like all of it.'"
Coincidentally, that simple declarative statement just also happens to be something that aficionados of Hayward's solo work will be asserting after a listen to his most recent album, "Spirits Of The Western Sky."
One of the most striking things about the solo effort is its incredible diversity; the melodic appeal of "In Your Blue Eyes," the rocking beat of "On The Road To Love" and the nuanced instrumentation of "The Eastern Sun." The record underscores Hayward's matchless ease in moving between dissimilar music genres.
"I am a listener and the same as I am when I was a kid in that so many different kinds of music appealed to me. I was able to inhabit a lot of personalities, but I don't think that's uncommon. I think a lot of people do. I don't have any musical prejudices."
"We talked about France before and one of the things that works fantastically well in French is rap. And I enjoy a lot of that too. So there's nothing that I exclude. 'Spirit' is just a question of me not deliberately doing things differently, but just opening a different set of doors somewhere in this hall of doors."
Not surprisingly, Hayward's different set of doors includes songs that feel a bit Moody as well as those that go in a different direction. "I played things in my solo work that maybe wouldn't be entirely appropriate with The Moodies."
"But on the other hand, I don't know how that would work out. Maybe I'd just change it a bit with The Moodies, so it would sort of be the same thing but with a couple of different nuances. I don't think there's much difference."
"The things that we've done over the last few years have become more like solo tracks that each of us has approached. That's just the way that recording techniques have changed. You don't need to do it in Nashville where you just set up and you play and there's a take and you like it or you don't like it. It's not like that anymore."
The recording process may have changed for Hayward, Lodge and Edge over the last half decade, but the appeal of The Moody Blues' music hasn't. The Cruise offers a rare chance to listen to that music up close and personal. For those of you that still haven't signed up for The Moody Blues Cruise II, you can contact them at (855) 622-3111.
If you can't make the cruise, you can catch The Moodies on tour at the following venues:
March 18 Durham, N.C. Durham Performing Arts Center
March 20 Nashville, Tenn. Ryman Auditorium
March 21 Atlanta, Ga. Fox Theatre
March 22 Saint Augustine, Fla. St. Augustine Amphitheatre
March 24 Sarasota, Fla. Van Wezel Perf. Arts Hall
March 25 Clearwater, Fla. Ruth Eckerd Hall
March 27 Miami, Fla. The Adrienne Arsht Center
March 28 Melbourne, Fla. King Center For Performing Arts
March 29 Orlando, Fla. Hard Rock Cafe
March 30 Naples, Fla. Artis – Naples
March 31 West Palm Beach, Fla. Kravis Center
May 7-9 Westbury, N.Y. NYCB Theatre
May 10 Boston, Mass. Boston Convention Center
Aug. 5 Bethlehem, Pa. Bethlehem Musikfest
Aug. 25 Lincoln, Neb. Pinewood Bowl Theater
Sep. 3 Appleton, Wis. Fox Cities Performing Arts Center
Sep. 4-5 Highland Park, Ill. Ravinia Festival
And just in case any of you astutely picked up on the fact that Hayward is touring in support of his most recent stellar album, "Spirits Of The Western Sky", you're in luck as there are tickets still available – but they won't be for long.
May 13 Pittsfield, Mass. Colonial Theatre
May 14 Verona, N.Y. Turning Stone Resort Casino
May 15 Niagara Falls, N.Y. Bear's Den
May 17 Poughkeepsie, N.Y. Bardavon, 1869 Opera House
May 19 Binghampton, N.Y. Anderson Center
May 20 Wilmington, Del. World Café Live
May 22-23 Annapolis, Md. Rams Head On Stage
May 25 Charlotte, N.C. The Neighborhood Theatre
May 27 Houston, Texas House Of Blues
May 28 San Antonio, Texas Empire Theatre
May 30 Scottsdale, Ariz. Talking Stick Resort
May 31 Tucson, Ariz. Fox Theatre
June 2 Los Angeles, Calif. Troubadour
June 3 San Juan Capistrano, Calif. The Coach House
June 4 Agoura Hills, Calif. Canyon Club
June 6 Oakland, Calif. Yoshi's June 7-8 San Francisco, Calif. Yoshi's