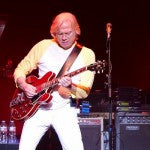 Tue, Mar 25, 14
Exclusive Interview Justin Hayward of the Moody Blues Talks Cruise Tour, Roger Daltrey, and Isle of Wight Festival
The Moody Blues have sold more than 70-million albums worldwide and have 14 platinum and gold records. The band has been in business for more than 40-years and is ready to set sail this April for the Moody Blues Cruise. This year, the Blues are not holding back. Lucky cruisers will not only get to see, hear, and meet the musical greats, but they will also get to be in the company of another rock legend, Roger Daltrey from The Who.
Justin Hayward, who has been with the band since 1966, recently stopped by to talk about the cruise, as well as the possibility of another Moody Blues album.
Q – Thank you, Justin, for chatting.
A - A pleasure. Thanks for the opportunity.
Q – The band will literally set sail this April 2-7 for the Moody Blues Cruise. It's titled, "Return to the Isle of Wight," which is an annual festival the Moody Blues played in 1969-1970. Now, this was before I was born, talk about the significance of the Moody Blues Cruise in relation to the Isle of Wight festival. Is there a correlation?
A - Our performance at the Isle Of Wight festival in 1970 is the only good quality 'snapshot' of the band 'live' in that era. Thank goodness Murray Lerner filmed our whole set and although I was very tired, with fighting roadies all around at the time, I knew it was good for us. There were a lot of mimed TV shows from that era so Murray's documentary 'Message to Love: The Isle of Wight Festival,' is the only real representative film of the band when we were just about to arrive at the top. I was pleasantly surprised when I heard the tapes (on six track, one of which was a film code - so just five really) and I mixed it easily without having to over-dup anything (impossible anyway as the drums were on every vocal mike). Thanks to Murray and Eagle Rock for finding the film.
We did both 1969 and 1970 festivals.  Both were great for us - not so good for other groups or artists as the crowds were impatient, and the sights chosen were not great and some artists thought they could just breeze through it - get in and get out quickly.
In fact, nothing went to plan at either festival and a lot of the artists got upset and bad tempered. No one went on time and it certainly wasn't 'peace and love' backstage for sure. In 1970 we just had a huge hit with 'Question' a few weeks before and the crowd loved us. It was an hour of listening to their own English hit group.
Q - How did the idea of a cruise come about?
A - We were approached a couple of years ago about doing a Moody Blues cruise and at first we didn't go for the idea. Then we realized Moodies fans would love it. Just like the fans did when we played Caesars in the 80's and that sealed the deal.
Q – The band will be joined by another music legend, Roger Daltrey of The Who. How did this come about?
A - The Who were (for me) the biggest act on the Isle of Wight so we had to have Roger on the cruise!
Q - Will Roger be joining the band on stage? If so, will there be some Who songs on the set list?
A - I don't think Roger needs any help from us; he's a legend. So I don't know!
Q – This cruise really allows full access to the band. Being as successful as the Moody Blues have been, this type of access has to be great for fans. How is being this accessible from the band's standpoint?
A - We really enjoy the interaction with the fans and talking about the band's history.
Q – The Moody Blues have an insanely amount of songs in their historic career. How many shows will you be playing on the cruise?
A - We'll play two full shows on the cruise plus solo shows. Anything could happen.
Q – How do you determine which songs to play?
A - What to play is easy; it's what to leave out that's hard!
Q – The band's last album was back in 1999 called "Strange Times," not counting the Christmas album in 2003. Will there ever be another Moody Blues album?
A - Hope so.
Q – Before I let you go, how do you think you've evolved as a musician and person in your storied career as a member of the Moody Blues?
A - Listen to my album 'Spirits of the Western Sky.' It's all there.
Q – Thank you again for taking the time. I wish you best of luck with the tour.
A - Thank you so much. My best wishes.
This year's Moody Blues Cruise, sailing the Caribbean April 2-7 aboard the MSC Divina, is close to selling out. There are still a few cabins available and you must call to book: (855) 622-3111 (US/Canada) or (954) 417-6264 (International).
For more info on The Moody Blues Cruise visit: