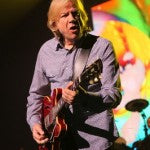 Mon, Jul 28, 14
Musikfest 2014: The Moody Blues' Justin Hayward says the band never really sought the limelight
With a legacy spanning nearly five decades, The Moody Blues lead singer Justin Hayward says the 12-string Guild acoustic guitar on which he performs the signature opening to "Question" always feels like coming home.
No strangers to innovation, The Moody Blues bring their enduring brand of progressive rock 'n' roll to Musikfest on Aug. 5.
"Some guitars play me, but (not) when I pick up that big old guitar. It just opens up," Hayward says of the intense rolling chords of "Question," from the band's 1970 release, "A Question of Balance".
The vintage Guild instrument is as much a part of Hayward's performance as the song he wrote for the recording, more than 40 years ago, he says. "Every time I play that song, and there is a beautiful kind of suspense. It's an exciting moment," Hayward says.
The Moody Blues took a leap in 1967 by collaborating with the London Festival Orchestra. The partnership was originally intended as a demo recording released by Deram Records to showcase new equipment, according to Hayward.
That record, "Days of Future Passed," ended up being the group's first concept album and vehicle for original material, including the hit songs "Tuesday Afternoon" and "Nights in White Satin." The project was supposed to be a retelling of the classical composer Antonin Dvorak's "New World Symphony," but ended up an entirely different and ultimately groundbreaking project, Hayward explains.
"It was supposed to be a rock version of 'New World Symphony,' but it became an (orchestral) collaboration on (the band's) original material," Hayward says. "We were lucky then, and we are lucky now ...  We've always been given complete freedom musically, and that continues on today."
Hayward credits the band's timeless musical appeal among fans and continued success to its ability to be creative, rather than having promoters dictate chart hits and schedule requirements.
"To come back (in the 1980s) with another round of success with hit singles, 'Your Wildest Dreams' and 'I Know You're Out There Somewhere', was glorious and brought a whole new audience to our music," Hayward says.
Hayward says the band never really sought the limelight, and as such "during our ups and downs, no one really noticed," Hayward says. "The atmosphere created on stage, that's very valuable to me."
Fans can expect "The Moodies" to perform from their vast back catalog, which includes "Nights in White Satin," "Question," "Tuesday Afternoon," "Wildest Dreams," "I Know You're Out There Somewhere," "Singer in a Rock and Roll Band," and others, according to a news release.
In addition to Hayward, who sings and plays lead guitar and joined the band in 1967, The Moody Blues includes bassist-vocalist John Lodge and original drummer Graeme Edge.
***
IF YOU GO
Who: The Moody Blues
When: 8:30 p.m. Aug. 5
Where: Sands Steel Stage at Musikfest, Bethlehem
Tickets: $49, $39
Info: musikfest.org