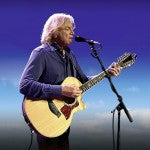 Fri, Jul 18, 14
Exclusive "Spirits Live" Bundles Available - New Videos!
Justin Hayward's "Spirits...Live" CD and DVD are due out August 19th. You can pre-order your copy directly from shop.JustinHayward.com.  Also available are exclusive bundles containing an autographed Justin Hayward poster, guitar pick set tin, tote bag and lapel pin.  Order yours today!  Be sure to watch the two video clips below taken from the DVD.  
Exclusive Spirits Live CD and DVD bundles available in Justin Hayward's official online store.