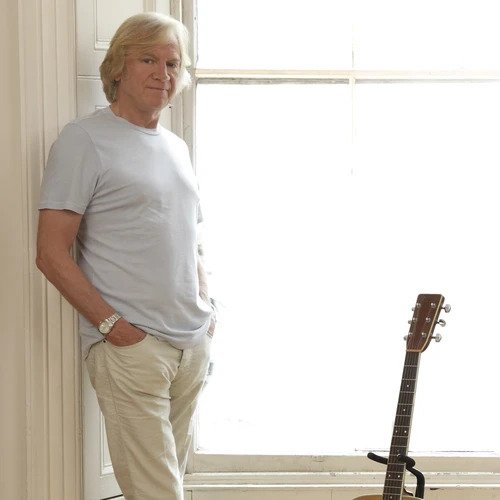 Tue, May 24, 16
Justin Talks with Song Facts.
Justin Hayward was 20 years old when he wrote "Nights in White Satin," the momentous hit that took The Moody Blues in a bold new direction. As their name suggests, they were a blues band when they formed in 1964 ("moody" was part of a gimmick where they would look very serene, never smiling in photos). Justin joined in 1966, replacing Denny Laine, who later teamed up with Paul McCartney in Wings. The band had gone as far as they could emulating American blues artists, so they set out to find a more distinctive sound.
"Nights in White Satin," the centerpiece of their 1967 Days of Future Passed album – the first with Hayward – took them down an untrodden musical path that made
The Moody Blues one of the biggest bands of the late '60s and early '70s. The hits were written by either Hayward ("The Story In Your Eyes," "Tuesday Afternoon") or bass player John Lodge ("Ride My See-Saw," "I'm Just A Singer (In A Rock And Roll Band)"). In the '80s, they returned to the charts with two more Hayward compositions, "Your Wildest Dreams" and "I Know You're Out There Somewhere."
In April, Hayward set out on his Stage Door tour, named after a track from his 1977 solo album, Songwriter. The title reflects his journey from young boy hanging out by the stage door without a ticket to the artist going through it.
Carl Wiser (Songfacts): Where are you located today?
Justin Hayward: We're in Poughkeepsie. We're just basing out of here for a few days. It's convenient.
Songfacts: Justin, I was reading somewhere that there really was a set of white satin sheets.
Justin: Yes, there really was.
Songfacts: That got me thinking about your songwriting and how very often there is a tangible image or experience, but after you're done with it, it becomes this abstract and often spiritual song. Is that intentional?
Justin: What an interesting way of putting it, Carl. I think you've got it there. Sometimes, you know, people include in their questions a much better answer than I could possibly give.
Yes, I think so. I never try to analyze too much. Writing for me is having a sort of picture, starting off with an idea and a line that will suggest some kind of images and then fulfilling the scenario of that particular story and making each word fit. And sometimes not just fitting in a sense, in a contextual way, but in a phonetic way as well, because the sound of the words is often just as important as the words themselves.
Graeme [Edge, Moody Blues drummer], when he started writing songs, he did great poetry, but sometimes I would have to tell him that you have to think of the sound of the words because they have to sing right as well.
But I digress. I'm trying to get back to get an answer as good as your question because I think you kind of said it there. Who knows what inspiration is? It's like a world of imagination. It's like having a room in your house that nobody else can go into and when you enter that room, life is just slightly different.