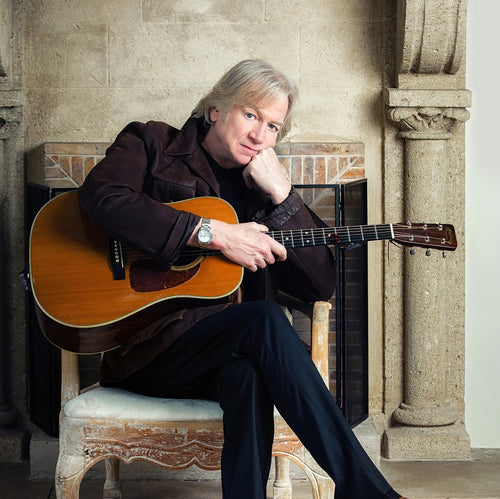 Fri, May 20, 16
Justin Hayward "Stage Door Tour" Comes to SOPAC
"I Think, for us anyway, it was a long slow success story. I recall Ray and I standing outside of Madison Square Garden the very first time we ever performed there; we were doing two shows in one day and we were between the two so we were walking around a bit when we came on a gigantic poster of ourselves. I turned to Ray and I said,"Hey, I think we've made it." The large laugh he exuded is exceeded only by his talent as Moody Blues mainstay Justin Hayward elaborated on his and the band's successes prior to this Sunday's 5/22 7:30 p.m. appearance at the South Orange Performing Arts Center. 
Like most performers who engage in side projects during band down times or between tours; Hayward keeps busy doing the same. The award winning vocalist, lead guitarist and main composer of the Moody Blues has much on his plate this time around as he embarks on the eastern portion of his "Stage Door Tour." "I'm touring with two fabulous musicians," he said enthusiastically. "I have Mike Dawes on guitar who is just fantastic and Julie Ragins, who of course I've worked with for a while now in the Moody Blues on keyboards and vocals; she has the voice of an angel. They're part of a new generation of musician and the three of us are performing the songs as I wrote them; it's very refreshing actually to do it this way." 
Hayward is bringing elements of the past, present and future into this tour in the form of his last CD, "Spirits of the Western Sky," a new DVD called "Live In Concert at the Capitol Theatre" and a sneak peak at a tune from a movie which is scheduled to go into production shortly and has already drawn rave reviews from its debut and along each stop thus far; "Wind of Heaven." 
"On this tour I'm doing things from all of the eras down through the years. I'm doing songs on stage that wouldn't quite fit with the Moodies, deeper reborn cuts, my material; I like to say that there's a little something for everyone. The tour has the essence of "Spirits of the Western Sky" but with a new flavor to the material. I am trying to bring the songs to the audiences as they were written in the joy of music, as they were in my music room. The DVD is, well, that's always something that I've wanted to do. Every time I take the stage I think that, at my time of life, I may never do this again, this could be my last performance; even with the Moodies I feel that way. I've been quite fortunate to have the longevity and career that I have and I've thought about doing this for quite some time. My producer said, "Let's just do it" and I said, Why not? The time just seemed right and I think the film shows that my music really connects on some level and that is very rewarding to me.  The DVD has all of my solo hits and the Moodies material; David did a wonderful job as always." 
The David of which he speaks, is film and documentary maker, producer and now song co-writer David Minasian whom Hayward first worked with on his "Spirits Live" DVD. "David and I got ahead of ourselves a bit with "Wind of Heaven," he said with a chuckle as he spoke of the film's theme song. David did such a fantastic job co-writing this and we debuted it to a great audience; it was very moving and very emotional for us all. It is the theme song of a movie about a veteran who returns from Afghanistan and loses himself a bit and finds his way back through horses. It's a wonderful story and it's one of the nicest things that I've ever done and I mean that sincerely. There were quite a few vets in the audience and of course Julie and Mike played it beautifully; it was very touching, a great moment." 
Over the years, Hayward has penned some of the Moody Blues greatest compositions; songs such as "Nights In White Satin," "Tuesday Afternoon," "The Voice," "Your Wildest Dreams" and many others have sprung from his thoughts, onto paper and eventually first onto vinyl and now through modern media. He claims there is no secret to his songwriting but that the process is a rather simple one; "I play for pleasure every day," he explained without hesitation. "Inspiration comes to me from working. Whether it's working with the Moodies or on my own; I need to work, to perform and that's all that I need. Most of my material is written when I'm just playing around and something usually comes from it; a melody or a line will pop up and then I can work with it. I'll develop a hook, or a pattern and then things just go on from there. Some I work harder at than others and some I don't over analyze; there's no need to. My music room in the house is where I do most of my writing; it's where I'm most relaxed." 
When asked if he had any advice for aspiring songwriters, bands and solo artists on how to manage their careers and song catalogs; Hayward gave it some thought before he responded. "Trust your own judgement," he stated with surety and the voice of experience. "Yeah, trust yourself, your judgement and create your own style, synthesize yourself and do what makes you, you. Create magic in the room no matter where you perform, be it in front of a mirror or your family and friends. "Do it live and you will survive," that's my motto, you need to perform in front of people then get out there and play the venues, the clubs and be heard but most of all, trust your own judgement."
Hayward says that after the next several months of solo performances; the Moody Blues may be out and about again. "Yeah, I believe that we'll be back out on the road in the fall; we're all apart at the moment with separate gigs but by the fall we should be ready. The thing about performing with the Moodies is that we've got such a large catalog of songs, that when we do go on the road; it's all kind of new again. We have a vast amount of material, some of which we haven't quite done in a while, so it will be fun." 
The South Orange PAC is located at One SOPAC Way in South Orange, NJ. To discover more information aboit shows and times; please visit www.sopacnow.org. To uncover more about Justin Hayward and/or the "Stage Door Tour;" please go to www.justinhayward.com.