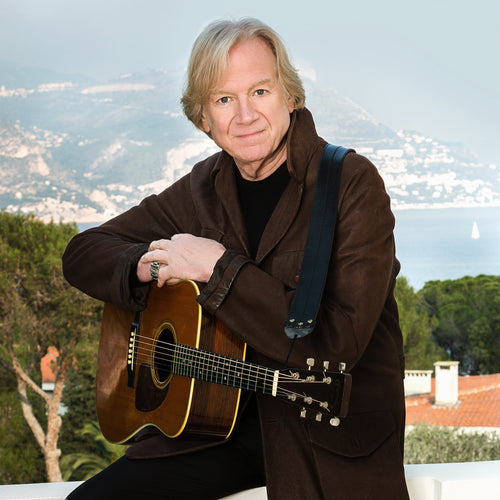 Fri, Mar 03, 17
Justin Hayward's Endless Nights in White Satin
BY BOB RUGGIERO
Of all the hits that the Moody Blues have charted over the past 50-plus years of existence, the one big calling card for the English band is probably "Nights in White Satin." Atmospheric, classically orchestrated, mysterious and featuring Justin Hayward's dreamy vocals, it's not just a hit, but a classic-rock anthem.
Amazingly, it wasn't until recently that the singer and writer of the said 1967 tune really "got" it — despite the fact that he's been performing it for decades.
"I was 19 going on 20 when I wrote it, and I had no idea what it was really about. I was at the end of one big love affair and starting another, and it was not meant to be a single," Hayward says. "It was the opposite of what a single should be!"
And sure, what kind of pop hit has a spoken-word poem (written by drummer Graeme Edge and recited by keyboardist Mike Pinder) smack dab in the middle? But then, Hayward opened his email one day and someone had sent him the 2010 cover version done by soul singer Bettye Lavette. And his entire worldview changed.
"For the first time in my life, I understood the song, what it was supposed to be. Her version explained it," Hayward says, his voice brimming with enthusiasm. "I have been singing it from the heart for a long time and every word meant something, but I hadn't understood it because it was a collection of random thoughts. But the way she did it, it made sense. And I have the feeling that her version is better than ours!"
Hayward says it "touched his heart" that he later got an email from Lavette that read "Hello baby. Thanks for the song."
He'll undoubtedly perform "Nights" and some other Moody Blues classics — which also include "Tuesday Afternoon," "Question," "The Voice," "I'm Just a Singer (In a Rock and Roll Band)," "Ride My See-Saw" and "Your Wildest Dreams." But he'll also dig into his surprisingly deep solo catalog, the best of which has been compiled into the new CD, All the Way, which also includes the new tune "The Wind of Heaven."
Most of this material is more quiet and introspective than Hayward's Moodies songs. And on this tour he'll be accompanied onstage only by guitarist Mike Dawes and Julie Regins on keyboards and vocals.
"Over the years, I held a few things back from the Moodies that I thought were too personal or particular. Too much 'me, me, me' instead of 'us, us, us.'" Hayward says. "And that represented some kind of pain or psychological dilemma in my life that needed to be expressed. I do things [on this tour] that don't work inside the loud context of the Moody Blues."
​
The Moody Blues arrive at Schipol Airport, The Netherlands, 1970: Mike Pinder, Graeme Edge, Justin Hayward, Ray Thomas, John Lodge.
Leading off the CD is the original version of "Blue Guitar." And while it later appeared on record in a different, highly orchestrated version, this is the original mix, done with members of 10cc. Long thought lost, it was recently located in a tape storage unit.
"I was overjoyed to find that. I knew it was good, in the original form and mix. But the record company didn't want to credit 10cc, which weren't on their label at the time," Hayward explains. "So [10cc member] Graham Gouldman and I went to try and find that original Eric Stewart [also in 10cc] mix. It was unadulterated, clear and brilliant."
Hayward also cops to a bit of male musical bonding with Alberto Parodi, who mastered the track. "We sat like silly old men and held each other's hands during the playback," the singer notes. "Then again, he is Italian. And they are very emotional."
Also on the CD is Hayward's biggest solo hit, the enchanting "Forever Autumn." While not written by Hayward, it was done for the 1978 concept album Jeff Wayne's Musical Version of the War of the Worlds. Though — as the singer explains in the liner notes — after he recorded it, he heard nothing more for a year, until he was informed by a record promotion man that it would be the single off the album! Hayward would reprise his version on several tours staging the story.
"Honestly, I had forgotten all about it. I did the song and we had a lovely day and then Jeff Wayne asked me back for another song and some backing vocals," he says. When I tell Hayward that – as a nine-year-old – I was obsessed with the song and played my 45 single endless times, he's momentarily speechless.
"That is really incredible you said that. Because after I recorded it, I went home and my wife heard it, and she said, 'What's that all about? Who's going to buy that?' and I said, 'I don't know, probably nine-year-old boys.' So Bob, I finally met you!"
In the MTV era of the '80s, the Moody Blues had something of a resurgence on the heels of much-played videos, somewhat like fellow '60s prog-rockers Yes. In their case, it was for the songs "Your Wildest Dreams" and "I Know You're Out There Somewhere." The first clip shows the story of an English girl in the '60s who follows the "young" Moody Blues (actually actors) and then, years later, encounters the "current" band at a show.
"Well, we had to do that. We were about 45 at the time, so we weren't going to play younger versions of ourselves!" Hayward laughs.
"But I would have to say that was the happiest time that the group has had and in my life as well," he continues. "I was straight and fully conscious and made sure I enjoyed every moment. And to have a hit record in the American charts and Germany and people recognize you from the video…that was great. But it lasts about three weeks and people move on!"
After the current solo tour winds up, there will be more activity with the Moody Blues, who also host their own cruise. But as with any band with a 50-plus-year (or even much less) history, there's some dropoff in membership.
The current version of the Moody Blues includes original drummer Graeme Edge, and classic lineup members Hayward and bassist John Lodge. When the Houston Press spoke with Edge in 2011, he said that the band could not exist without the utterly distinctive vocals of Hayward, though the man who owns the pipes in question disagrees.
"Well…there's always another kid that can come along and do those songs. Graeme and I love each other dearly, but I've seen so many bands where they got a new guy singing and just carried on!" he says.
As for memories of Houston, Hayward says the city's name is "bittersweet" to him, due to the fact that his daughter's first boyfriend, a lawyer, was from the city and that the relationship "ended badly."
But he has far better memories of Lubbock, home to his hero Buddy Holly. "One of the first things I did when I came to America was to go to Lubbock, to walk the streets that Holly did," he offers. "That part of the world is legendary, particularly for English boys."
He also has fond memories of Stevie Ray Vaughan, who at one point spent nearly a year and a half opening shows for the Moody Blues. "He was the quietest man I ever knew," Hayward says. "But what a player!"
The Moody Blues themselves will tour the country this summer to commemorate the 50th anniversary of their breakthrough album, Days of Future Passed. The band is usually on a short list of acts that are not currently in a certain Cleveland-based Hall of Fame but that many fans feel should be. And with the inclusion of more classic and prog-rock bands in recent years — Chicago, Yes, Electric Light Orchestra, Deep Purple — might it be time for the Moody Blues?
"I don't care," Hayward offers. "It doesn't mean anything in my life, but it does to the American fans. In Europe, it doesn't even make it to the news channel. But it must be tough for the fans. I hope it happens for them one day."
Justin Hayward performs Saturday, March 4 at the Heights Theater, 330 West 19th. Doors open at 7 p.m.; $44-$64.