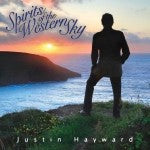 Mon, Jan 14, 13
Justin Hayward "Spirits of the Western Sky"
Eagle Rock Entertainment to Release Justin Hayward Spirits of the Western Sky On CD and Digital February 26, 2013
New York, NY (January 14, 2013)–On February 26, 2013, Eagle Records is proud to release Spirits Of The Western Sky by Justin Hayward.
As lead guitarist and vocalist of the legendary rock band, The Moody Blues, Hayward is one of the most prolific singer-songwriters in music.  Justin's songs include "Nights In White Satin," "Tuesday Afternoon," "Question," "The Voice," "Your Wildest Dreams," and "I Know You're Out There Somewhere," to name just a few of his worldwide hits.  Performing and recording for more than 40 years with The Moody Blues, during which the group has sold more than 60 million albums, Justin Hayward has been a driving force in the band's success.
Spirits Of The Western Sky, recorded in Genoa, Italy and Nashville, is Hayward's first solo album since 1996's The View From The Hill.  It features his trademark vocals and guitar work on tracks such as "One Day, Someday," "On The Road To Love," & album opener "In Your Blue Eyes," and also highlights orchestrations by Academy Award-winning composer Anne Dudley. Additionally, Hayward moves into new areas with the three country and bluegrass-influenced tracks "What You Resist Persists," "Broken Dream," and "It's Cold Outside Of Your Heart."
"Anne [Dudley] is one of the true greats," states Justin, "in the same rarefied class of orchestrators as Peter Knight, who was such an inspiration in my early Moody Blues days. I've worked with Anne on different projects over the years and it's always a joy (when she is arranging, all the studio musicians know it's going to be wonderful).  I also co-wrote a song with my friend Kenny Loggins for Spirits Of The Western Sky. He and I were both on the road and staying in the same hotel.  We had a great day playing guitar together and we came up with 'On The Road To Love'. Kenny plays and sings on the track with me. This album is a labor of love. It's been my whole life for the last few years. I know we all have many choices nowadays and I thank everyone who gives my album a listen and brings these songs into their collection. Every track is truly from my heart".
Building on the best of his work throughout an incredible career, Spirits Of The Western Sky is an album guaranteed to delight Justin Hayward's legions of fans around the world.
Eagle Rock Entertainment is the largest producer and distributor of music programming for DVD, Blu-Ray, TV, Audio and Digital Media in the world.  Eagle works directly alongside talent to produce top quality, High Definition and 3D programs, both concerts and documentaries, including The Rolling Stones, Pink Floyd, The Who, Queen, The Doors, Jeff Beck, U2, Peter Gabriel, Paul McCartney and Ozzy Osbourne. Eagle is a Grammy Award winning company and has received over 30 multi-platinum, over 50 platinum and over 90 gold discs, worldwide.  Eagle Rock Entertainment has offices in London, New York,
Toronto, Paris and Hamburg.
Follow Eagle Rock Entertainment at: Facebook:  www.facebook.com/EagleRockEnt
Twitter: www.twitter.com/EagleRockNews
YouTube: www.youtube.com/user/eaglerocktv
TRACKLISTING
1) In Your Blue Eyes
2) One Day, Someday
3) The Western Sky
4) The Eastern Sun
5) On The Road To Love
6) Lazy Afternoon
7) In The Beginning
8) It's Cold Outside Of Your Heart
9) What You Resist Persists
10) Broken Dream
11) Captivated By You
12) One Day, Someday (Alternative Extended Version)
13) Rising
14) Out There Somewhere
15) Out There Somewhere (Raul Rincon Remix)