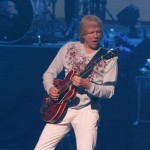 Thu, Dec 27, 12
Justin Hayward is back to answer more of your questions!
Have a question for the next Q&A opportunity with Justin?  Send it tocustomerservice@moodybluestoday.com with the subject line: Q&A
  "No More Lies" is such a great song.  How come the Moodies never perform it in concert?
Thank you - but what would we drop to make room? Our problem is always not what we play; it's what we leave out! It would be nice to try it as a stage number though.
Are you working on a new CD with new material you've written?
It comes out in February.
What do you do in your 'time off' from touring?
Write, record, help fix new tours and manage my life, (same as the rest of the world does).
What settings do you use for your 335 and also what settings for your amps, and what type of amps do you use?
The 335 is simple – just the 'back' pickup, or both pick up's for rhythm.  The amps are my Mesa Boogie, with the settings straight up, my Fender DUAL PROFESSIONAL with Celestion Vintage 30 speakers. All the tone settings at around 1 o'clock with the fat switch on. Not too much volume. It's the best 'clean' amp ever. Also, my Marshall 50 Watt with a four ten cabinet. I change the settings on that all the time.
What was the catalyst for writing Nostradamus? My worries over the World that we are making for our children.
Are there any plans for the Moody Blues to come to New Zealand again? If not, would you consider coming again?
We would love to – but we have to be invited by a promoter who will fix it with the NZ authorities. That's the way it works. We really enjoyed playing there and would really love to be asked back.
Is there any symbolism on the album cover of "In search of the lost chord"?
Me, Mike and Ray went through the TM course together and that influenced our brief to Phil Travers the artist.
I loved the guitar solo sound on "Water" (from the Journey Into Amazing Caves soundtrack).  How did you get that sound?  What guitar and effects did you use? Could this song show up in a live show?
I think it was my 1952 Telecaster that I have only ever used for recording – direct into the desk, with just a compressor, and recorded at Mulinetti studio in Italy
I am curious about what the concept of "The Other Side of Life" means to you.
We were recording with Tony Visconti at Good Earth studio in Dean Street, Soho in London and outside of the door was the other side of life.
Supposedly, Gibson made two "Blue Guitars" (ES 355's) to commemorate the release of the song.  Do you still have yours and do you ever play it?
I thought they only made one blue 6 string 335, and yes, I would never part with it.
Would you ever consider coming to Japan?
It would be great – maybe someone will invite us? I hope so, we loved it so much when we were there in the 70's.
What was the inspiration for the song "Are You Sitting Comfortably"?
'"Are you sitting comfortably? Then I'll begin'". Those are the words that always started children's hour on the radio. My dear friend, the late Lionel Bart suggested that title to me one day and I liked it, and wrote the song with Ray.
Will you be returning with a tour in the United States or Canada?
In March 2013.
Will 'You and Me' ever be among the songs you play in concert?
We do now.
Would the Moodies ever do a tour with just music from their first 5 albums?
Er…. don't know.
Do you still use your white Fender Squire Strat?
It still comes to every gig with me.
Do you have any plans to perform again at the Cape Cod Melody Tent in Cape Cod, Massachusetts?
I hope we do – I love that gig.
My question concerns the ring you used to wear that belonged to an old French family.  Do you know the story of your ring?  Did this family meet their demise during the French Revolution?
You've reminded me I must look out all the info I had on it. I can't remember.
Can you tell us what particular "view from the hill" inspired this collection of songs?
I was living, and writing in a small flat on a hill with the most amazing view.
Is there any hope of seeing a "Canterbury Rocks" CD to raise money? I've looked but haven't seen anything.
That would be a question for Ian.
If you could possess a superpower what would it be, and why?
Flying – who wouldn't want to?
What was the medallion on a long chain you used to wear in the 60s?
A gift from my family.
In 1973 when the US Air Force "borrowed" your song Dawning Is the Day, without permission, did you ever get to see their commercial they made with your song?
No I didn't. But I don't own the copyrights to the early songs that I wrote – I signed an onerous contract when I was 17 and lost the rights - so they didn't need my permission - just the permission of the copyright owner.
In the wake of recent tragedies of stage collapses have you and the band demanded more thorough and official inspections of stages you play for safety?
Er…no. Ooops, should we?
Was the silver pendant hanging on the rearview mirror of the car in the Your Wildest Dreams video yours?  What was it?
I think it was the director's idea. Sorry, don't know.
Regarding those 20 minute intermissions during live shows, is that for the band or the crew and what's going on back there?
The building and promoter require it – unless it's a Casino and then they want a short, one set gig. I get changed, and retune the guitars.  
What's your secret for holding that lovely long note at the end of "Nights"?
No secret. It just feels like a release of emotion. It's such a wonder to play and sing.