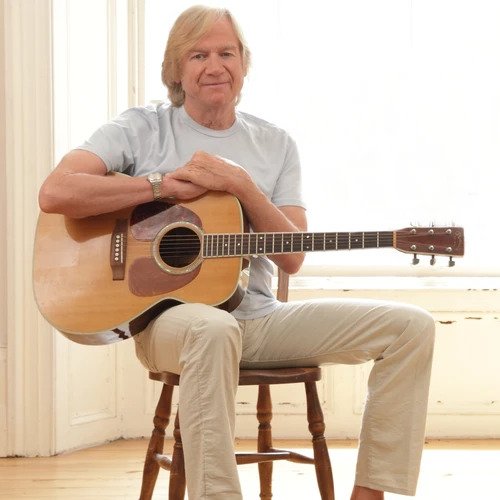 Thu, May 12, 16
Justin Hayward's Stage Door Tour Off to an Incredible and Emotional Start
Plymouth, NH - The famous Flying Monkey Theatre was the first stop on Justin Hayward's Stage Door Tour, and also the site of the very first live performance of his newest song, The Wind of Heaven. Before performing, the legendary Moody Blues frontman relayed the story of how it all came about.
"A few years ago I was lucky enough to meet a man named David Minasian.  David is a filmmaker and he shot my Spirits Live DVD... filmed in Atlanta a few years ago.  After that, we became firm friends. Recently, he told me about a movie that was in production -  It's the story of a vet who comes back from Afghanistan and really looses his way and has to find his life again. And he finds it through horses... and the horses give him back his life. It's going to be a lovely movie and it goes into production later this year.  David and I jumped the gun a little bit; we got so carried away with the story that we wrote a song together and we would like to do it for you now.  This is called the Wind of Heaven.
" The enthusiastic crowd was captivated as Justin, backed by guitar virtuoso Mike Dawes and Moody Blues keyboardist and backing vocalist, Julie Ragins launched into the first few notes of the new song.  It was clear the audience experienced something magical, as evidenced by the thunderous applause and joyful tears.  While the applause continued, a man stood up in the middle of the crowd and spoke out clearly, "On behalf of all us veterans in the audience, we want to thank you for playing this song tonight."  The crowd once again went wild.
Preorder Live In Concert At the Capitol Theatre DVD
An emotional David Minasian was in attendance, along with his Wind of Heaven producing partners Trinity Houston and Martina Webster.  David comments, "It was an honor to witness the first ever live performance of the song we had co-written for the movie. Justin has intuitively captured the essence of the film's theme and its message."
The stunningly beautiful song and music video, co-directed and produced by David and Trinity, made its big screen premiere debut just two nights earlier to a VIP crowd in the Boston area.  It was also simultaneously broadcasted worldwide to thousands online. Attendees were allowed to ask Justin any question they wished, but many were content to simply express their sincere gratitude for the years of music he had gifted to their lives.
The Wind of Heaven video can be found on Justin's newest DVD release, Justin Hayward: Live in Concert at the Capitol Theatre, also directed by David Minasian. It's available at all of his concerts and at shop.justinhayward.com. To find ticket information for his Stage Door tour visit the tour page HERE.