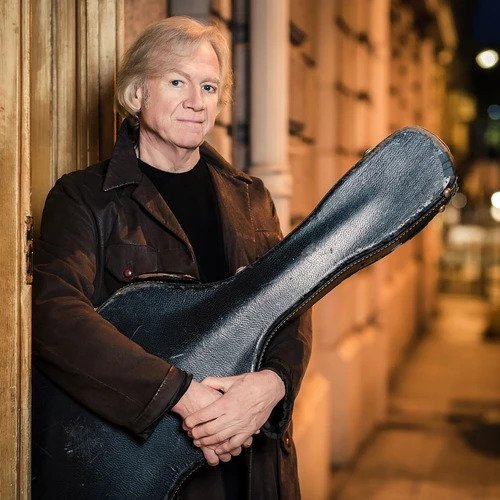 Thu, Nov 03, 16
Justin Hayward's New Album All The Way Is a Mix of Old, New and Missing Songs
Justin Hayward's new album All The Way is a true testament to the scope and spirit of Justin's impressive solo career. The broad selection of the album's 30 tracks demonstrates the plethora of styles and sounds we've all come to love in Justin's nearly 40 years as a solo artist, and also includes some rare tracks which will especially appeal to longtime fans of Hayward.
Over the past five years, Justin has seen his solo career really take off. In addition to playing sold out shows with the Moody Blues, which he's been doing for over 50 years, Justin has been regularly seeing sold out crowds on his recent solo tour too, in part due to the exposure he's been getting from his nationwide PBS concert special which began airing in 2015.
What becomes evident when you see Justin live is his pure love of the craft of songwriting and music itself. This is the sense that's so vividly captured on All the Way, an album that has been thrilling fans worldwide.
As mentioned earlier, some rare and new tracks are included on All the Way, including one which, up until recently, was lost for 42 years.
"The Wind of Heaven"
Newly released, "The Wind of Heaven" is a heartfelt song about a wounded warrior who has left his soul on the battlefield and is having a difficult time adjusting to being back home. It is dedicated to all of those who have served their country. The song has received standing ovations worldwide on Justin's solo tours. Co-written by David Minasian, an accomplished musician in his own right.
"Blue Guitar"
Justin originally recorded this song with English rock band 10cc. The original recording, produced by 10cc's Eric Stewart, went missing but was recently recovered from an old tape vault. Hayward fans have been asking for this original Justin/10cc version for years and now it's included on All The Way. This is the first time it's been heard since 1974. The track is noted for it's beautiful guitar riffs and solos with Justin and his friend, 10cc guitarist Eric Stewart.
"I Dreamed Last Night"
One of Hayward's most requested songs, it was originally on the Blue Jays album. Justin includes here a rare live version, recorded at the Capitol Theatre in Clearwater, FL. Justin is joined by vocalist Julie Ragins and guitar virtuoso Mike Dawes, who plays along with Justin's 12-string to create one incredibly rich sound.
"Gypsy"
This classic was recorded with an Italian string quartet. The combination is quite unlike anything you've heard before. Justin's vocals jump out like he's performing in your living room!  This same quartet was also featured in a new video of "The Story In Your Eyes", which can be seen at justinhayward.com.
"It Won't Be Easy"
Released for the first time, this song was written by Justin and produced by Grammy Winner Tony Visconti (who also produced David Bowie, amongst others). It was the theme song on the BBC Sci-Fi series Star Cops.
There are also several signature Justin Hayward hits including "Gypsy", "Forever Autumn" and "Nights In White Satin".
All The Way is available at justinhayward.com or online retailers such as Amazon or iTunes.  The digital version contains 30 tracks and the CD contains 15 tracks.