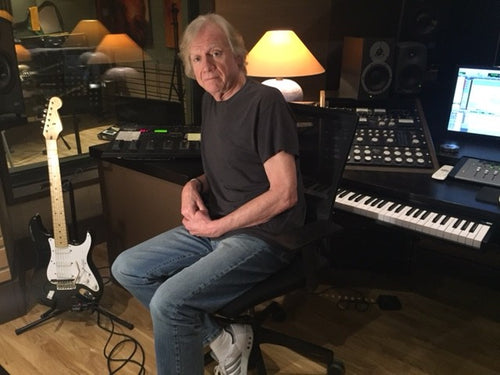 Fri, Aug 28, 15
Justin Hayward plays Mayo PAC
Some musicians thrive when they front a full-throttle band. Other artists shine when they perform acoustically.
Justin Hayward gets to do both, and for that reason he considers himself a fortunate man.
"It's the perfect balance," says Hayward. "I get to play with the group and I also get to go out and do the acoustic shows. I'm so lucky to have both."
That acoustic trio will come to the Mayo Performing Arts Center this Sunday, Aug. 30, for a concert billed as "An Intimate Evening with Justin Hayward."
Many people associate Hayward with the Moody Blues, the progressive rock band he joined in 1966. As singer and composer, he is responsible for some of the band's best-known songs, including "Nights in White Satin" and "The Story in Your Eyes."
Many of the original recordings are striking for their lush arrangements. "Nights in White Satin" was an early case of a rock band performing with a full orchestra.
But Hayward says that a number of Moody Blues songs are centered on acoustic guitars.
He cites "Watching and Waiting," "You and Me" and "Question" as examples of songs that benefit from the unplugged format.
He also has the opportunity to draw from his solo career, including his 2013 CD "Spirits of the Western Sky." He singles out "Forever Autumn," written for a musical version of "The War of the Worlds," as a song he rarely sings with the Moody Blues.
Hayward says he also enjoys interacting with the audience.
"I get to talk about the stories behind the songs," he says. "People enjoy that."
Music was always part of Hayward's life. Growing up in England in the late 1940s and 1950s, he absorbed the work of American rockers, such as Buddy Holly, as well as British artists such as Marty Wilde, with whom he later played.
By the time he was 17, Hayward already had a published contract as a songwriter. ("That comes from being the son of two teachers," he jokes.)
In 1966, the year he turned 20, he was tapped to replace Denny Laine as singer and guitarist for the Moody Blues.
"In the early days, I felt I was under a lot of pressure," he says. "I came to the group as a songwriter, and I think the others expected me to always have songs ready while they were still writing."
With the addition of Hayward and bassist John Lodge, the Moody Blues shifted from the blues-based rock typified by their early hit "Go Now" to more elaborate compositions that came to represent progressive rock of the late 1960s and 1970s.
"Looking back, I realize how fortunate we were at Decca (the group's label)," Hayward says. "We didn't have a (label) guy over our shoulders demanding that we write three-minute records. We had time in the studio."
Hayward says he takes pride in the fact that the Moody Blues' work in the studio.
"The group should be remembered for changing the way people looked at stereo recordings and the way records were made," he says. "We spearheaded that."
Though the Moody Blues have had some periods of inactivity, and despite the departure of long-time members Mike Pindar (who left in 1978) and Ray Thomas (who retired in 2002), the band maintains an enthusiastic following, Hayward says.
"It's been a long, slow success story for the Moody Blues," Hayward says. "It's meant that we've been around thanks to our supporters."
Though Hayward has received several songwriting awards (including Britain's prestigious Ivor Novello Award), he states that any type of recognition is far from his mind while he is composing.
"I don't desire to be liked or admired," Hayward says. "It's about presenting music that I like and that comes from the heart. The rest is a lovely kind of fluff, but it's transient."
AN INTIMATE EVENING
WITH JUSTIN HAYWARD
WHEN: 8 p.m. Sunday
WHERE: Mayo Performing Arts Center, 100 South St., Morristown
TICKETS: $39 to $69
INFO: 973-539-8008 or www.mayoarts.org