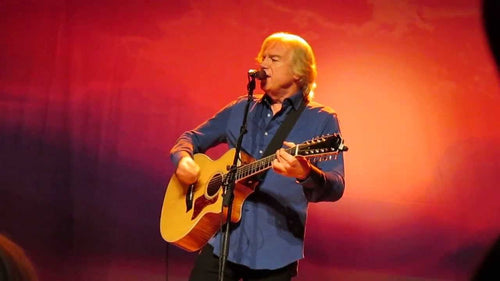 Mon, Aug 31, 15
Justin Hayward of Moody Blues gives Morristown a melody lesson
By Kevin Coughlin
You know you're in for a special night when the opening act gets a standing ovation.
Mike Dawes, a 25-year-old Brit, dazzled the Mayo Performing Arts Center on Sunday with 20 minutes of percussive finger-style acoustic guitar playing evocative of the great Tommy Emmanuel.
How was the main act, Justin Hayward  of Moody Blues fame, going to top this?
For the next 70 minutes, Hayward proceeded to show everyone exactly how:
Melody, melody, melody.
Please click HERE for more photos.
The beautiful melodies stretched from Tuesday Afternoon off the classic 1967 album Days of Future Passed  to One Day, Someday from Spirits of the Western Sky in 2013.
Other noteworthy songs from the latter CD included The Western Sky, The Eastern Sun, In Your Blue Eyes and What You Resist Persists, nestled among such favorites as Forever Autumn, Question, Out There Somewhere, In Your Wildest Dreams and of course, Knights in White Satin.
Opening act Mike Dawes, who caught the public's eye on YouTube with a viral cover of 'Somebody That I Used to Know' by Gotye. Photo by Kevin Coughlin
The Moody Blues played in Morristown last year and in 2010, and both shows were memorable.
Sunday's acoustic evening with Hayward, playing guitar backed by Dawes and the versatile Julie Ragin on harmonies and keyboard, was a reminder of how well crafted all these songs are.
And it showcased one of rock music's most distinctive voices, still captivating at 68, along with Hayward's impressive rhythm guitar work. On Sunday there was no Graeme Edge to keep time on drums.  But Hayward never missed a beat.
His comedic timing was pretty good, too.  While tuning his guitar in between songs, he observed drolly, "This is what life sounds like to every guitar player's girlfriend."
Bottom line: An evening with Hayward, solo or with the Moodies, is about as close to a sure thing as the concert world gets.