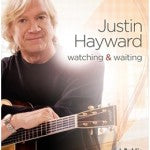 Thu, May 28, 15
Justin Hayward Back on PBS Starting May 30th!
PBS is proud to announce the return of Justin Hayward's "Spirits... Live" Concert, airing from May 30 through June 7th.
This 90 minute concert event premiered nationwide earlier this year to rave reviews! Justin has been a huge supporter of PBS and is happy to be featured on the network as part of their Pledge Events.
PBS supporters will receive Exclusive Sets of Justin Hayward DVD's featuring never-before-seen songs performed live along with rare interviews and vintage footage.
To see if Justin's show "Spirits… Live" is scheduled to be broadcast in your area, check your local PBS listings.  If you don't see it, give them a call and tell them you'd like to have Justin's show as part of their programming!
Pass this on.  Let's make this the biggest Justin Hayward event yet!