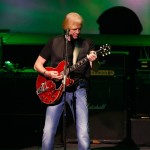 Mon, Jun 01, 15
Happy playing the hits says Moody Blues' Justin Hayward
They are one of the most enduring and creative bands that Britain has produced, from their humble R'n'B beginnings in the mid-sixties to the experimental, progressive band they became just two years later, as pioneers of stadium rock with the album Days Of Future Past.
And they've shifted 70 million albums along the way.
The Moody Blues are heading back to the UK from the US on their Timeless Flight 2015 Tour and frontman Justin Hayward says that anyone turning out to see them at the Royal Concert Hall can expect some of the hits along with a few surprises.
"There are certain things that have to be in the set," he says, taking a break from soundchecking for a show in Philadelphia.
"And it's not what you play, it's more a case of what you leave out," he adds, referring to the vast back catalogue of hits that includes Nights in White Satin, Go Now, I'm Just a Singer (In a Rock and Roll Band), Question and I Know You're Out There Somewhere.
"We are also playing some songs that haven't been played in a while – or indeed ever, such as You And Me, Nervous and Say It With Love."
The core line-up of Hayward on vocals and guitar, John Lodge on vocals and bass, and drummer Graeme Edge, is bolstered by long-standing members Alan Hewitt, Julie Ragins, Norda Mullen and Gordy Marshall. But Hayward and Lodge weren't original members, joining two years after the band first formed in Birmingham in 1964.
Do Hayward and Lodge plan to mark their personal 50th anniversary with the band?
"We will be doing something to commemorate it, but it's something we have yet to talk about," says Hayward, who can be pinned down on his favourite songs.
"There's the whole of the album Days of Future Passed and songs like Question, Ride My See Saw – which is my favourite guitar riff, and Wildest Dreams, along with I Know You're Out There Somewhere. They're all great songs."
The Moody Blues have no desire to stop but for the foreseeable there'll be no fresh material.
"I can't see a new album on the horizon," says Hayward, 68.
"At the moment we're a happy band and indulging ourselves by enjoying the Moody Blues catalogue."
And the pace doesn't slacken after the UK dates.
"In July, I'm doing my first solo tour of Britain and then back to the US for more solo and Moody Blues dates. In the winter we'll be doing the Moody Blues Cruise which is always great fun."
The Moody Blues will be appearing at the Royal Concert Hall on Wednesday, June 17. Tickets are £41.50 from the box office, call 0115 989 5555 or go to trch.co.uk.