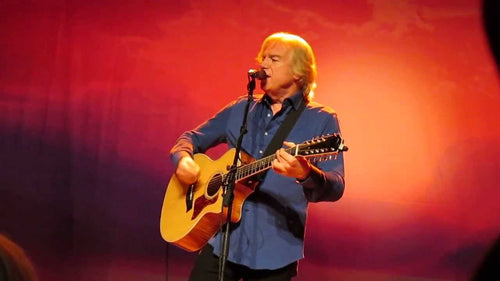 Sat, Oct 01, 05
From Justin: Moody Bluegrass/Swindon BBC
To start things off, here's some information on an upcoming special event this October...
There is a very special event in Nashville on Sunday, October 23rd. Moody Bluegrass will be performing live at the Ryman Auditorium and The Moody Blues will be there!
To find out more, please visit http://www.moodybluegrass.com/invitation.html
And now onto some words from Justin...
I can't thank enough those who came all the way to the Swindon BBC gig last week. I suppose one of the reasons I didn't write about it before was that I didn't want to put pressure on anyone to come from so far away. I can only say that I was deeply moved by the presence of so many friends (and also very relieved that I wasn't facing an audience of locals, that would have been terrifying, I did too much of that when I was just starting out!!) Thank you so, so much for being there with me.
In the afternoon, after the gig, I went to The Great Western Hospital with my friend Lesley Drewitt to visit the two rooms that she, and her colleagues have been raising funds for over the last few years. I'm very glad to have been a small part of that effort.
I still haven't seen the final version of the Greek DVD. Lets hope that Image get it right. I know it will sound good. The title wasn't my idea by the way.
I'm looking forward to the weekend in Nashville that's coming up. I hope to play something different while I'm there, (well the Moody Bluegrass boys and girls did all my best songs!!).
As for the next tour, things have been so crazy for me lately that I haven't really looked at the gig list. I know we end the tour in Vegas. Lovely! It sometimes feels like I go on tour for a rest. The 'War of The Worlds' tour? Well, when I have stuff to tell you I will.
It will be great to work with Jeff again. There is always a special bond with people you have had success with. And they are always happy to see you.
See you soon too.
Love Justin
"To the world you might be one person, but to one person you might be the world".
Mark Twain said: "Grief can take care of itself, but to get the full value of joy you must have somebody to divide it with".
Thank you again.
-------
Well... We do have information on the War of the Worlds tour that is coming up next year.
This is the official poster for the April 2006 Tour of Jeff Wayne's Musical Version of The War of The Worlds, Justin is appearing at as Special Guest..
Please visit the following web sites for more information:
http://www.getLIVE.co.uk/TWOTW
http://www.thewaroftheworlds.com