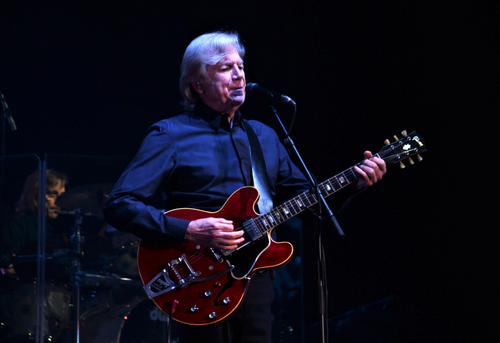 Sun, May 01, 05
From Justin: Back from 'Down Under'
May, 2005
I'm just back from our trip "down under" and wishing all the beautiful places and warm and interesting people of the Southern Hemisphere weren't quite so far away. I did manage to go via South Africa on the way out to see a friend in Cape Town. What a beautiful place. It's not a bad way to go to Australia from Europe either, as travelling to Perth from there is relatively painless.
I enjoyed the whole trip, and met up with quite a few friends and family who have made Australia their home. It was also fabulous to see familiar Moodies friends and faces in the audience every night. My thanks to all of you for the huge effort, and the loyalty shown to us. I'm sure you had fun outside of the gigs as well.
I would encourage anyone to make an effort to visit Australia sometime in thier life. It's like nowhere else you've ever been, but beautifully familiar at the same time.
The highlight of the N.Z. trip was the unique Maori Powhire welcome given to us on our arrival in Wellington. The Powhire is the traditional Maori welcome, or dance of welcome, given to visitors to their Marae or communal meeting place. It includes the Hongi (pressing of noses), speeches of welcome and a spiritual blessing. Waiata (songs or chants), followed the speeches, and then came our reply.
I had written a speech, which I hoped, struck the right note, and also considered that a song would be a meaningful gift from us. But when I opened my guitar case (The Black Guild that plays 'Wildest Dreams') it looked like someone - between Brisbane, Sydney and Wellington -had put a boot through the front of it, caving it in just below the bridge, as well as completely shearing off a machine head. I think they had played Aussie rules football with it on the tarmac. Curiously, the case was undamaged, but not locked. It was totally unplayable and I was extremely choked. What could I do?
I saw some rugby players who had been on the plane with us who I noticed had a guitar with them. I asked if I could borrow it for a few minutes and they said 'of course', but when I unzipped the case and gave it a tentative pluck, I realised that it wouldn't attain the high Moodies standard we were known for (tongue firmly in cheek!).
At that moment one of the Maoris who were welcoming us, came over and said "Need a guitar, mate?" To which I replied, "I'd like to have a choice." His guitar was just fine, and I am very grateful to him for lending it to me. We were then able to give a hearty rendition of 'Lovely to see you.' that got stronger and louder as people around us realised they knew the song, or at least the chorus.
The Powhire itself was charismatic, beautiful in its melodies, very moving, and just a little bit scary. The three men who fronted it seemed to focus their emotion on me in the mistaken belief that I was the leader of the group! When it was over I was a little surprised, but pleased, when a Maori lady in her welcoming grass skirt came over to me and said, with a very English accent, "Will you be playing 'Wildest Dreams' at the concert? I hope so, it's my favourite." I said I hoped so too!
Miraculously, a city councillor in Wellington, Ray Ahipene-Mercer is one of the best guitar technicians and repairers in the world. Phil, our promoter called him that night and two days later my black Guild was back, playing better than ever, even if it had picked up a few scars. I was so, so thankful.
I do hope we will return one day.
Love
Justin
The reply to the Maori welcome;
'We are all very proud and honoured that you have blessed us with the gift of this wonderful welcome. It's an experience we will treasure all our lives.
Some of us have been to this beautiful country before, as visitors, but this is the very first time, in a very long career, that we have come to play our music.
Our music and songs come from the heart, and apart from our families, are the most important things in our lives and we are thrilled to be able to share our music, and we are very moved by the fact that music is so much a part of your welcome to us.
All of us, musicians and technicians alike, are here because we just want to be around music. So, we feel that the best way to thank you in some small way is to play one of our songs for you as our gift of thanks.
With love and respect.
Variety - A Children's Charity
A special thank you to Nancy Jussen, and all those named below, for their efforts and contribution to Variety on our behalf. The three of us were honoured to present the cheque to Variety during our stay in Wellington, New Zealand.
Donors to Variety - A Children's Charity
Carol Huddleston
Wendy Street
Darlene Tokar
John Mavrinic
Masako Nemoto
Jean Palencar
Melanie White
Nancy DiNardo
Chris Wilson
Bev Blake
Laura Slayton
Cali
Madalena Carrozzo
Bonnie Jordan
Linda Bernier
Lisa Levine
Peggy Riley
JoAnn Verhey
Kathy Fortenberry
Pat Watt
Josh Stacey
Deb Harrington
Christine Careme
Anne Marie Dranchak
Theresa Saby
Grace Hill
Maggie Grayson
Jean Harvey
Jenny Smith
Nan Gerstle
Sharon Blaufarb
Sue Cutlip
Esther Hurden
Janet Colmenero
Karen Hammonds
Maggie Clarke
Pamela Davies
Karen Owens
Jackie Fairholme
Nancy Jussen
Participating Message Boards:
Higher and Higher, Moody Blues and Friends,
Lost Chords, Moody Talk, Moody Southern Comfort