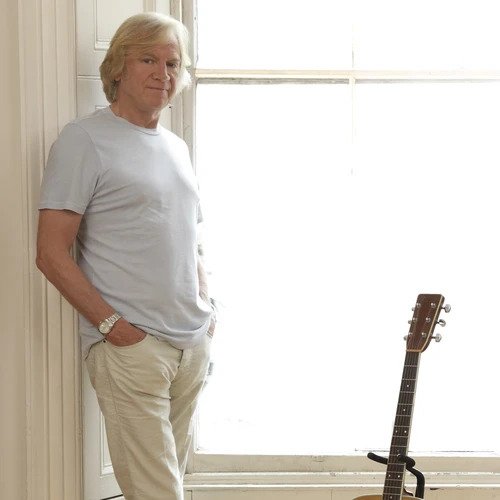 Thu, Jul 09, 15
Forever acoustic for Justin Hayward
THE voice of The Moody Blues, Justin Hayward, heads to Hall For Cornwall this month with something a bit different for fans.
Justin will be performing songs from his new album Spirits Of The Western Sky and a collection of favourites from The Moody Blues, all in an acoustic format.
Joining Justin will be special guest Mike Dawes, one of a new generation of young, gifted guitarists.
Justin said: "This is a very different tour for me – playing acoustically on my guitars that I wrote the songs on at home. It's a lot different from the Moody Blues' big productions.
"It's an opportunity to do Moody Blues songs which have never worked on stage before, but work in this acoustic style. I'm discovering a lot of old songs like Watching And Waiting and Never Comes The Day."
Justin has chalked up nearly 50 years as vocalist, lead guitarist and composer for the Moody Blues.
Over the past 45 years the band has sold 55 million albums and received numerous awards.
Justin added: "The Moody Blues had a long slow success – it took the Days Of Future Passed five years to get to the top of the American chart. We were one of the new English bands to make it there – our music was just right for FM radio.
"We first went over in 1968 and toured with everyone. We went across America with Canned Heat, played with Jefferson Airplane and supported Cream on their farewell tour.
"One day we turned up with Van Morrison to see who was topping the bill at a festival and were told, 'The Moody Blues'. That was the turning point.
"We were able to headline Madison Square Garden in 1972, which has got to be a highlight."
It all started for Justin when upon leaving school in Swindon at 17 he answered an advertisement in the Melody Maker.
"That was the greatest day of my life," he declared. "The advert stated 'rock star requires guitar player'.
Justin successfully auditioned for original British rock'n'roll star Marty Wilde.
He credits Marty with encouraging him to become a songwriter; he made several recordings with Marty's Wilde Three and also appeared with them at the London Palladium.
He added: "Playing with Marty at such a young age was a baptism of fire. He's still my hero – he's 6ft 5, I'm 6ft and I still look up to him."
Proving that he could have massive hits outside The Moody Blues, Justin hit the Top Ten globally in 1978 with Forever Autumn – created for Jeff Wayne's War Of The Worlds album. Becoming, even for a writer of his stature, a signature song, this was the spur for him to take to the stage for five years, from 2005 to 2010, in the spectacular live stadium production of the album.
He added: "This acoustic tour gives me the chance to play Forever Autumn, which I don't do with the Moody Blues. That and Nights In White Satin are the songs that get recognised anywhere in the world."
Of Forever Autumn, Justin said: "It was so beautifully recorded by Jeff Wayne – he did such a great job. He contacted me out of the blue and said, 'are you the guy that sang Nights In White Satin? I've got a song that's just right for you'."
His latest album of new songs Spirits Of The Western Sky – for Eagle Rock – was followed by several solo tours, and most recently the DVD, Spirits…Live, which reached No 1 on the Billboard Video chart. His live solo show is currently being shown all over the USA on PBS TV.
He's looking forward to returning to Cornwall, a county he once called home.
"My daughter lives near St Ives in the house I built. I first came to the area in 1969 and lived there from 1973 right through to the mid-'90s.
"It's very different in Cornwall now and far from the 'kiss me quick' days. There are some of the best restaurants in the country there now."
It's a busy year for Justin. As well as touring in the UK this year as a solo artist, he will also be appearing in Europe and the USA in 2015 with The Moody Blues, having played Plymouth Pavilions last month.
"I have spent most of my life on the road," he added. "Playing live and creating a small piece of magic in a room is like a drug to me, one that I never want to give up."
Justin Hayward will be at Hall For Cornwall on Monday, July 13 at 7.30pm.
Tickets are £34 and £36.
Your ticket price includes a £1 Theatre Fund payment for the preservation of the theatre.
Call the box office on 01872 262466 or book online at hallforcornwall.co.uk
Read more: http://www.cornishguardian.co.uk/Forever-acoustic-Justin-Hayward/story-26848672-detail/story.html#ixzz3fOmatORG
Follow us: @westbriton on Twitter | westbriton on Facebook