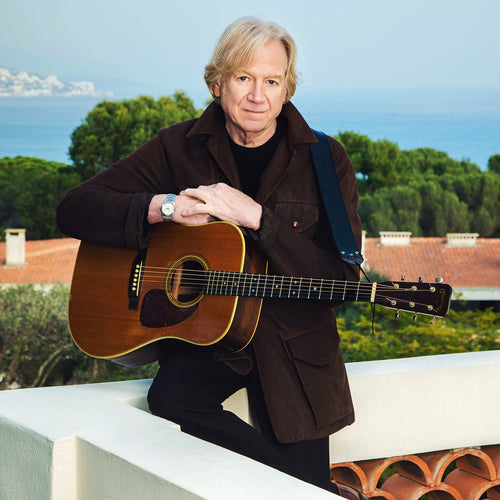 Wed, May 10, 17
'The Wind of Heaven' 2017 UK Tour
Live Nation / Kennedy Street are delighted to announce that legendary singer-songwriter Justin Hayward will tour the UK in support of his latest album release All The Way. The possessor of one of the most recognisable voices in rock, Justin will be performing new songs from the album as well as Moody Blues favourites.  Tickets go on sale Friday, May 12th at 10am from Tickets available from Ticketline.co.uk , Ticketmaster.co.uk or the venues direct.  Support on all dates will come from Mike Dawes.  VIP merchandise packages will be available beginning Thursday, May 11th
All The Way includes the newly released single The Wind of Heaven, a heartfelt song about a wounded warrior who has left his soul on the battlefield and is having a difficult time adjusting to being home.  The song is dedicated to all of those who have served their country.  The song has received standing ovations worldwide.
Justin himself said, "I'm always so thrilled to have the opportunity to tour in the UK, particularly at this time in in my career when no one knows what the future holds. I'm bringing my 'song writing' guitars from home on the road with me, so the gigs will have the feel and sound of my music room along with the vibe I was feeling as I wrote the songs. I look forward to singing and playing new songs and old songs, particularly Forever Autumn, which I only get to perform in my solo show, and The Wind Of Heaven from the forthcoming movie, and also to tell the real stories behind all the songs and the events that surrounded them at the time. It's a joy to share a stage with such wonderful young and inspiring talents as Mike Dawes (one of a new generation of brilliant young guitar masters - worth the price of admission alone) and Julie Ragins, a truly exceptional musician and singer. She and I have shared stages all over the world for many years, loving the music we play, both with the Moody Blues and solo. I look forward to seeing you on the road".
As the driving force behind The Moody Blues, Justin penned classics like Nights in White Satin, New Horizons, Question, The Voice and Your Wildest Dreams.  Justin's solo career began in 1977 with Songwriter.  In 1978 Justin had a worldwide hit with the timeless Forever Autumn from the War of the Worlds. In 1980, Justin released his second solo album Night Flight, a mixture of his own songs and those of other writers.  His last solo studio album was the critically-acclaimed Spirits of the Western Sky in 2013, his first since 1996's The View From The Hill.
SEPTEMBER 2017
Mon 18th                                Southend                             Cliffs Pavilion
Tues 19th                               Guildford                              G Live
Weds 20th                              Bournemouth                       Pavilion
Fri 22nd                                  Barnstaple                            Queen's Hall
Sat 23rd                                 Worthing                                Assembly Halls
Mon 25th                                Weston Super Mare              Playhouse Theatre
Weds 27th                              Hull                                        City Hall
Thurs 28th                              Wrexham                               William Aston Hall
OCTOBER 2017
Sun 1st                                    Liverpool                               Philharmonic Hall
Mon 2nd                                  Cardiff                                   St. David's Hall
Tues 3rd                                  London                                  Union Chapel
Thurs 5th                                 Birmingham                           Town Hall
Fri 6th                                       St. Albans                             Alban Arena
Tickets prices from £31 - £37.50 (booking fees or venue levies may also apply)
These dates represent a rare chance for Justin's fans to connect with one of music's keenest talents and to hear the music that he loves presented with a truly personal touch.