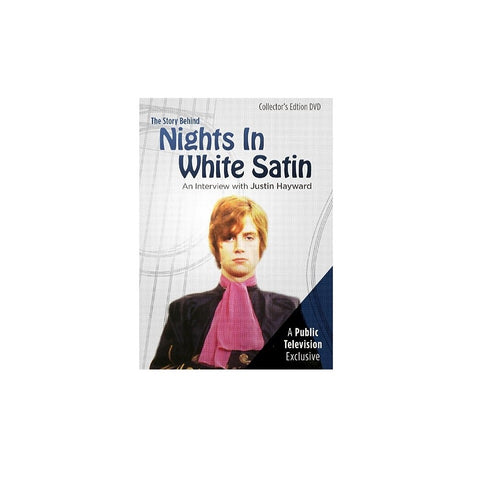 Mon, Dec 14, 15
"The Story Behind Nights In White Satin" has been Nominated for Best Documentary at the Idyllwild International Festival of Cinema 2016
The Story Behind Nights In White Satin, a documentary produced and directed by noted filmmaker/musician David Minasian, has been nominated this year by the Idyllwild International Festival of Cinema as Best Documentary.
The year was 1966. A 19 year old lad from Swindon named Justin Hayward had just joined a struggling English rock band called the Moody Blues. Little did he know that a recent composition of his would forever alter the course of his life and that of his bandmates. As the closing track of the landmark classical rock album Days of Future Passed, Nights in White Satin would soon go on to become one of the best selling, most covered, and best loved songs of the rock era. A rare, candid interview with its legendary composer and singer Justin Hayward, combined with previously unreleased vintage footage, including the first ever live performance of Nights In White Satin captured on film, highlights this fascinating study of the making of a classic.
You are invited to attend a special screening of The Story Behind Nights In White Satin on Wednesday, January 6, 2016 at 7pm at the Rustic Theatre in Idyllwild, CA as part of the 2016 Idyllwild International Festival of Cinema.  The Festival runs from January 5th through the 10th. As part of this special presentation, the Festival will also be screening, as a bonus, a concert film titled Watching & Waiting which features a magical performance by Justin Hayward recorded in 2014. This intimate concert showcases not only several Moody Blues classics, but also a number of rarities performed live for the very first time. There will also be a Q&A session with David Minasian, Producer and Director of both films, and Executive Producer Michael Pinkus, as well as a VIP reception with wine and hors d'oeuvres.
To be a part of this magical evening, the cost is only $35 for these special screenings plus the VIP reception which follows.  As an additional bonus, you'll receive a full IIFC day pass that grants you access to all films screening at the Idyllwild Cinemafest on January 6th, 2016.  There are only 200 seats available for this special evening so secure your tickets now as this event is sure to sell out.
For more information and to order tickets, go to: www.idyllwildcinemafest.com/nights