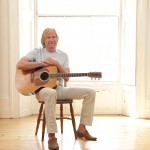 Wed, May 28, 14
THE MOODY BLUES' JUSTIN HAYWARD SWAPS PROG FOR ACCOUSTIC
By 
Matt Stieb
PUBLISHED: MAY 28, 2014
With Game of Thrones' massive success inserting dense layers of fantasy into pop TV, the Moody Blues' marketing people should be tossing the British act's material in banner ads any time a nerd searches for the HBO series. Like Game of Thrones, the Moody Blues has a knack for taking huge supernatural ideas and zipping them in a marketable package. Where HBO gets it done with high-res shots of hardcore violence and soft-core porn, Justin Hayward and The Moody Blues do it with spaced-out cuts of rock 'n' roll, expanding into proto-prog jams when the time is right.
Singer and chief songwriter Justin Hayward joined the Moody Blues in 1966, after a brief career backing Elvis-emulator Marty Wilde. Despite Wilde ripping hard from the white blues acts of America, he gave Justin Hayward some career-defining advice on blazing a personal path. In an era of pop music where aspiring artists parroted the hits of their inspirations, Wilde told young Hayward "that to survive in the business you really have to develop your own style." Calling the Current from a hotel room in Connecticut, Hayward continued, "The best way to do that was to do your own songs and follow your own way, really. That was the best advice anybody ever gave me."
From the outset with the Moody Blues, Hayward's style was entirely his own, a unique mash of Tolkien couplets, psychedelic musings and pucker-sweet melodies. Even in a traditional rock 'n' roll context, Hayward's work sounded delightfully off-kilter. But muddle it with the pompous strings of Dvorák's New World Symphony, as Decca Records did in 1967 with the Moody Blues' Days of Future Passed, and out comes a new genre: progressive rock.
"Decca was an old-time record company and they controlled fully Days of Future Passed," said Hayward. "It was their idea. Really, they wanted a stereo demonstration record. They were selling stereo units to jazzers and to classical people, but not to rock 'n' roll." With lyrics cutting up an ordinary day's cycle and Dvorák's symphony panning through the lush stereophonic recording, Days of Future Passed predicted the verbose arrangements and concept albums of '70s UK prog, Yes and King Crimson.
Stripped of the grandiose Moody ways, Hayward's performance at the Empire will be a testament to his songwriting. Performing Moody Blues material and works from his 2013 solo effort Spirits of the Western Sky, Hayward is up to the exposed challenge. "I never had a rhythm guitar player in the Moodys," said Hayward. "I had to cover all the sound."
Though Hayward's recent work is more acoustically driven, the songwriting is still pretty massive. "While I was occupied as the gatekeeper for the Moody's recordings and remasterings, I was spending so much time in the studio doing demos and writing," said Hayward. "Then Eagle Records heard that I was putting a whole album together. They came in, put their hand up and said, 'Yeah, whatever you want to do.' When I delievered it, they didn't make any changes, it was great. I did that three years ago then it became a labor of love and it took over my whole life. And now I feel a duty to go out and share it."
Justin Hayward
$68.75-$80.20
7:30pm Weds, May 28
Charline McCombs Empire Theatre
226 E Houston
(210) 226-5700
majesticempire.com