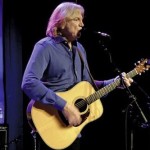 Thu, Oct 16, 14
The Moody Blues' Justin Hayward Says Touring Solo Has "Become a Kind of Drug for Me"
It's been just over a month since The Moody Blues wrapped up their latest North American tour, but now frontman Justin Hayward is set to embark on a new U.S. solo trek . The monthlong outing kicks off Friday in Durham, North Carolina, and is plotted out through a November 17 concert in Chicago.
This tour leg is the third that the 68-year-old singer/guitarist has mounted without his band since the early-2013 release of his latest solo album, Spirits in the Western Sky , and he tells ABC News Radio that he's sort of getting addicted to playing these stripped-down shows.
"It's become a kind of drug for me," says Hayward. "I'm enjoying it, and it's the perfect balance to The Moody Blues."
Justin, who has been alternating solo tours and Moody Blues treks since the summer of 2013, notes that he's "very pleased that one allows the other."
He adds, "You know, the Moodies, the big production...if I just did that I'm not sure I'd be satisfied anymore. So, to have this, to bring my own acoustic guitars out and to enjoy them and to just play the role of [an] acoustic guitar player and singer again is very refreshing."
The new trek will see Hayward and his small backup group -- virtuoso guitarist Mike Dawes and multi-instrumentalist/backing vocalist Julie Ragins -- visiting a variety of East Coast cities, as well as some Midwest sites. Several of the shows will take place at the same venues where Justin performed during his August 2013 tour in support of Spirits , including The Concert Hall in New York City and the Buckhead Theatre in Atlanta.
In fact, Hayward's 2013 show at the latter theater was the one that was captured for his recently released Spirits…Live CD, DVD and Blu-ray.
Meanwhile, Hayward promises that fans who come out to his new concerts will get to experience "a different show" from his previous outings.
"I'm introducing quite a few different numbers to what we did on the DVD, and it's kind of evolving, this stage show," he explains.
Among the tunes Justin says he's adding to his set are two Moody Blues gems -- "Watching and Waiting" from 1969's To Our Children's Children's Children album and "You Can Never Go Home" from 1971's Every Good Boy Deserves Favour . Hayward points out that these numbers hail from a time he refers to as his "blue period."
"I went through very disturbed time, I think, in…the late '60s and early '70s," he explains, "and I wanted to revisit some of those songs as I kind of cathartic exercise for myself, to try and figure out what the hell was going on."
Hayward tells ABC News Radio that following the solo trek, he'll rejoin The Moody Blues for another road trip. He says that although nothing's confirmed, the band is eyeing a 2015 U.S. tour leg that would run from the middle of March through May.
Here are all of Hayward's solo U.S. tour dates:
10/17 — Durham, NC, Carolina Theatre
10/18 — Newberry, SC, Newberry Opera House
10/20 — Clearwater, FL, Capitol Theater
10/22 — Jacksonville, FL, Florida Theatre
10/23 — Orlando, FL, The Plaza LIVE
10/24 — Ft Lauderdale, FL, Parker Playhouse
10/26 — Atlanta, GA, Buckhead Theatre
10/28 — York, PA, The Pullo Center
10/29 — Sellersville, PA, Sellersville Theatre
10/31 — Atlantic City, NJ, Borgata
11/1 — New York, NY, The Concert Hall
11/2 — Tarrytown, NY, Music Hall Theatre
11/4 — Ridgefield, CT, Ridgefield Playhouse
11/6 — Vienna, VA, Wolf Trap for the Performing Arts
11/7 — Vienna, VA, Wolf Trap for the Performing Arts
11/8 — Munhall, PA, Carnegie of Homestead Music Hall
11/11 — Nashville, TN, City Winery – Nashville
11/12 — Paducah, KY, Carson Center
11/13 — St. Louis, MO, River City Casino and Hotel
11/14 — Bloomington, IL, The Castle Theater
11/16 — Milwaukee, WI, Vogel Hall Marcus Center
11/17 — Chicago, IL, City Winery – Chicago