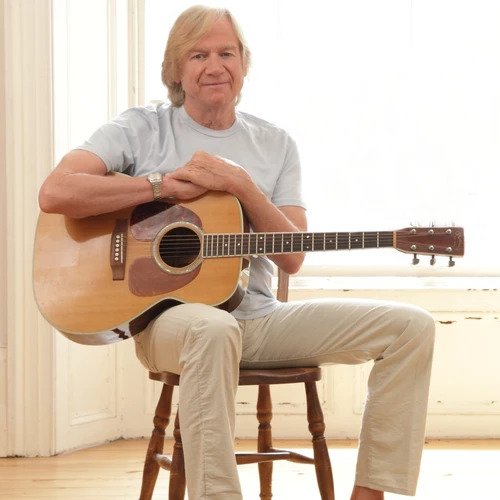 Mon, May 02, 11
The Moody Blues' Justin Hayward On Selling 70 Million Albums, Staying Together For 40 Years
For four decades, The Moody Blues have served as the forefathers of the classical music and rock 'n' roll fusion.
Beginning in 1967 with the release of the album Days of Future Past and the single "Nights in White Satin," The Moody Blues essentially ushered in a completely new musical genre. And, in the '60s and early '70s, the band achieved remarkable success -- including over 70 million albums sold -- while attempting to fuse the delicacies of symphonic music with the 4/4 thump of rock 'n' roll.
Stranger, though, was The Moody Blues' surprising success in the '80s as a pop band, when singles such as "Wildest Dreams" and "I Know You're Out There Somewhere" topped the American charts. In anticipation of The Moody Blues' performance tonight at the Verizon Theater in Grand Prairie, singer and guitarist Justin Hayward was kind enough to speak to DC9 about the band's legacy and how its music continues to appeal to new fans.
The Moody Blues have sold more than 70 million albums worldwide. Is it possible to even begin to think of such success in today's musical landscape?
Not now with the Internet and online sales. But back in the '60s, '70s and '80s, when it was really albums being bought off the shelves, it was an astonishing feeling to know that so many people enjoyed your music. They still do, but now in a different way.
There have been various incarnations of the band. Do you still do songs from all the various lineups?
I think we do things from most of the albums from most of the incarnations, down through the years. At the first part of the show, we do some of the newer stuff, and the second part is really the greatest hits -- those songs we couldn't get off stage without playing. We enjoy doing all the songs.
Do you ever do [original member] Denny Laine's "Go Now'?
We did that a couple of months after Denny left the band, but none of us could sing it like he did. Denny took that with him, really. Even when he was with [Paul McCartney and] Wings, he was doing that song. I think he was the voice of that song, and it belonged to him. He sang it better than anybody else.
Is it true that you were recommended to join The Moody Blues by Eric Burden of the Animals?
Yes! I knew someone in Eric's office. Eric was looking for some songs, for song material, and I had a couple of records and demos that he ended up hearing. The call came completely out of the blue. Two days later, I was in The Moody Blues. I already had an amplifier, so I was ahead of the game.
Seeing that it was such an experimental album, were you surprised by the success of Days of Future Past?
I think we were. It was a slow burner. It was made as a stereo demonstration record and Decca came to us with that idea, since stereo was just then coming into people's homes. But we thought the record would have a limited, kind of arty appeal. Over the years, the record gained momentum. Now, "Nights in White Satin" was a hit straight out of the box, especially in France and the UK. And then "Tuesday Afternoon" was a hit in America. On the strength of those songs, we were brought to American by Bill Graham. The FM signal was just beginning to take shape and become huge, and we came there with our stereo material at the right time.
Do you think of "Nights in White Satin" as an iconic rock song?
The song means a lot to a lot of people. It's a wonderful thing to be able to share it every night. To see people's faces when we do that song -- it's a remarkable thing. I would never want to give up that feeling. We've had people get married in front of us, at gigs, while we are playing that song. They had a preacher at the front of the stage. A lot of people use it at their funerals, as well. I was 19 when I wrote it, so it's almost like it happened to another person. It's a privilege and a pleasure to play that song each night.
Do you still start each show off with "Ride My See Saw"?
We used to alternate between "Question" and "Ride My See Saw," but we just kind of got stuck starting off with the latter.
Does the phrase classical rock annoy you?
No, not at all. People can call it whatever they want. We always followed our own road. We never thought that we were part of any trend or movement. It didn't make any difference to us. I suppose it helps to have some sort of label on it, but we never put one on what we did.
The band took a break in the mid '70s. Did the various members have to get away from one another?
We had started a new album and then aborted it. We had to get our own lives in order. We were all so young when we first started the band, and we had seven years of great success. But all of us had developed lives outside of the group. We needed to take a break. There wasn't a conscious decision. We just didn't make any plans to be together, to record together. When I think back on it, it's probably the reason we are still a band today. We could have stayed together back then maybe a year or two, and we would have broken up. As it was, a couple of guys were thinking about leaving the band at that time. When we got back together a couple of years later to make the Octave album, [keyboardist] Mike Pinder decided that, after all, it wasn't what he wanted to do. It was refreshing that a person would be so honest. It left the four of us ready to continue on.
Some sources claimed that the band was tired of fans stalking them, that some fans were supposedly even seeking cures for illnesses.
That's not true. We've always had a great relationship with our fans. We never rode or recognized our celebrity. It was just really our own personal lives needing to develop outside of the group. We had gone from boys to men, and it was time to grow up and put some roots down.
There seems to be a lot of young people in the audiences these days. What do you think about that?
It does surprise me. The big change for us was in the mid-'80s, when we had a couple of really big hit singles with "Wildest Dreams" and "You're Out There Somewhere." A whole new generation of people came to us. They knew nothing about the band before that. In the years after that, we became a favorite on PBS. We've done a number of live shows for them. I think people have discovered us through that as well. Even for fans that are our own age, it's OK to come back and see us again.
Do you think the fans that discovered The Moody Blues in the '80s were shocked by the material from the '60s and '70s?
I think they were. And it took a while for them to relate to that material, to realize that it was the same band. We find that a lot of the younger people in the audience identify with the stuff that was written when we were young.