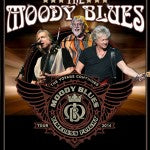 Wed, Dec 11, 13
The Moody Blues Announce 2014 US Spring Tour with Select Dates in May and September
Rock legends The Moody Blues announced today their upcoming spring 2014 tour that will hit the U.S. on March 5 through March 31;  followed by a "Moody Blues Cruise," and several dates in May and in September.  The spring tour ties in with the recent release of their 17 and 4-CD box sets "Timeless Flight," and will launch on March 5 & 6 in Morristown, New Jersey, concluding on March 31 in West Palm Beach, Florida.  They will also play dates in May in Westbury and Boston;  and in September,  in Appleton, Wisconsin (a rescheduled performance from the recent 2013 tour) and in Chicago (Highland) at the Ravinia Festival in September.
The Moodies Cruise returns with Isle of Wight alums Roger Daltrey of The Who, Carl Palmer of ELP, Lighthouse and Shawn Phillips;  and The Zombies, The Orchestra starring ELO, Starship, Little River Band, and more.  The cruise takes off on April 2 in Miami, Florida and travels to Nassau, Bahamas, Grand Turk Island, Turks & Caicos and back to Miami on April 7.
About "Timeless Flight":
Released on Universal Music Enterprises, "Timeless Flight" is The Moody Blues' definitive, career-spanning collection, in both 17-disc and four-CD configurations.  The lavish 17-disc set is housed in an LP-sized hardbound slipcase and includes 11 CDs of digitally re-mastered album tracks, previously unreleased mixes and outtakes, and complete concert recordings.  It also includes three DVDs of rare television performances, promotional videos and a previously unreleased concert film; in addition to three DVD-Audio discs of long out-of-print 5.1 album mixes, a 120-page hardback collector's book, faithful reproductions of Moody Blues memorabilia, and more.  The four-CD TIMELESS FLIGHT boxed anthology culls audio highlights from the larger collection, including standout album tracks, singles and B-sides, previously unreleased mixes, and concert and radio performances.
Moody Blues 2014 tour dates are as follows:
3/05/14 Mayo Center - Morristown, NJ
3/06/14 Mayo Center - Morristown, NJ
3/07/14 Count Basie Theatre - Red Bank, NJ
3/08/14 Count Basie Theatre - Red Bank, NJ
3/10/14 Strathmore - Bethesda, MD
3/11/14 Strathmore - Bethesda, MD
3/12/14 American Music Theatre - Lancaster, PA
3/14/14 Oakdale Theatre - Wallingford, CT
3/15/14 Caesar's - Atlantic City, NJ
3/16/14 Landmark Theatre - Richmond, VA
3/18/14 DPAC - Durham, NC
3/20/14 Ryman Auditorium - Nashville, TN
3/21/14 Fox Theatre - Atlanta, GA
3/22/14 St. Augustine Amphitheatre St. - Augustine, FL
3/24/14 Van Wezel Perfroming Arts Hall - Sarasota, FL
3/25/14 Ruth Eckerd Hall - Clearwater, FL
3/27/14 Arsht Center - Miami, FL
3/28/14 King Center for the Performing Arts - Melbourne, FL
3/29/14 Hard Rock Live - Orlando, FL
3/30/14 Artis Center - Naples, FL
3/31/14 Kravis Center - West Palm Beach, FL
4/2-4/7/14 Moody Blues Cruise
5/7-9/14 NYCB Theatre at Westbury - Westbury, NY
5/10/14 Boston Convention Center - Boston, MA
9/03/14 Fox Cities Performing Arts Center - Appleton, WI
9/4-5/14 Ravinia Festival - Highland Park, IL