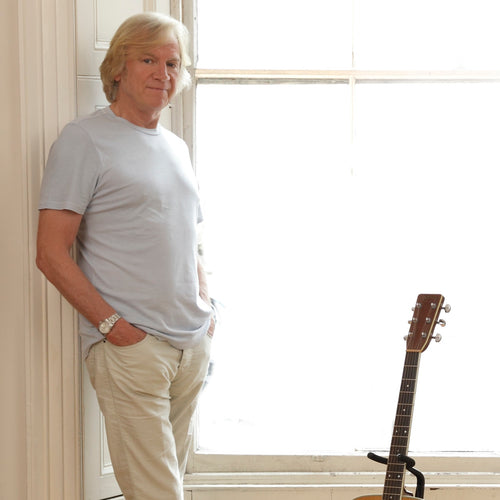 Thu, Jun 28, 18
Justin answers your questions!
Q. What's your secret to juggling so many tasks all at once so well onstage; remembering guitar chords to all the songs, remembering lyrics, floor pedals, ear monitors, interacting with the audience, etc.?
A. I don't think there is a secret. Remembering the words or music of a song is not like remembering a script – I'm told it involves a slightly different part of the brain when it's musical, and with practice, it becomes automatic, but whatever, for me it's always easier to remember music than to read it. About the 'in ear monitors', I set the levels and balances with Steve Chant at the beginning of a tour and I don 't change them, no matter where we play.
Q. Assuming it's a huge undertaking, since the live show of "Days of Future Passed" turned out so beautifully has the idea of playing any other of your albums live in their entirety crossed your mind?
A. Yes, of course – for about half a second.
Q. What have you been reading lately that you could recommend?
A. Any enlightened and interesting English novelist from the early 20th century.
Q. Is it strange when you get home where it's quiet after a tour where night after night venues full of people were on their feet cheering for you?
A. Well, it's not strange because I've spent my life packing and unpacking, and it's always really nice to come home, but I do miss the touring team (and room service!). There are few downsides to coming home, it's lovely, but one issue is there's always so much to catch up on (bills etc!) and lots of times, when I come home, people say "I didn't want to worry you with this while you were on tour , but -". and then It's usually some disaster that has to be sorted at the last minuet! But to be back in my little 'music place' is always a joy.
Q. Where do you suppose you might keep/display your Rock Hall of Fame award?I
A. haven't actually received it yet and I honestly can't  remember what it looks like (or if Hayward was spelt right). I think it was heavy. I might give it to a family member.
Q. What was your favorite subject in school?
A. Art.
Q. What are you hearing in those ear monitors you wear during shows?
A. I'm listening to my own voice (for my pitching), Julie's voice, my guitars and the keyboards. Steve Chant does a nice mix for each person on stage, and in the crew, of each song when we rehearse it, and we usually leave it like that. For me it meas that it's always the same gig in my 'ears'. Also, Steve can talk to me in the in my ear monitors during the show and let me know if something is not right – or if it's great!
Q. Do you have a few words of wisdom regarding vocals for aspiring singers?
A. Hit the note in the middle. The only other way I can express it is that you have to 'feel it' in the sense that the words have to mean something to you and then that feeling will be conveyed.
Q. How do you know when a new recording is ready to send out on its journey into the world?
A. Ah, that's a good question. Alberto tells me most times – his is always good advice.
Q. What's a typical day at home like for you?
A. There isn't one I'm afraid. I try to get up and about as quickly as I can, and get some exercise and finish the day with a book – unless!. On the road I just want to be on time, or early!.
Q. What's behind the title of your last album "All The Way"?
A. Udo Wolf thought of it in the car after a gig one night and it sounded right to me.  I think it sums up a journey of a compilation album – I wish I could explain better, but I can't.
Q. Your best tipfor those artists/bands touring?
A.  Practice.
Q. What could have been a possible name for the band when reforming anew in 1966 instead of Moody Blues?
A. I started making a list of group names when I was at school, and on that list was The Oasis – duh! Of course Noel and Liam were so right naming the band without a 'the'.
Q. What's your favorite holiday and why?
A. A day off on a tour near a posh shopping mall or a beautiful walk. In truth I  rarely take holidays.
Q. Were you a natural performer as a young boy?
A. Nope – I'm not now, and never was.
Q. What is happening in the world that may move you to write about it or delve deeper into your art as a consequence of it?
A. Try reading Aristotle's Poetics.
Q. Does the way you learned guitar affect the way you play now?
A. Yes. That's an interesting subject because all of us 'self taught' players could possibly have benefited from having strict instruction from a versatile teacher when we were young – but, would that have inhibited our style?. I think it might. In the end I think we were best to imitate our heroes.
Q. What do you miss most about being a kid?
A. Being indestructible.
Q. What's the bigger joy; getting a new song recorded and working on every nuance of it, molding it into the perfect record of your initial inspiration or presenting that new life to a live audience?
A. Ah – I love it all,  but I don't think I have ever made a perfect record. "Wildest Dreams" came closest, thanks to Tony Visconti.
Q. What do you do to get rid of stress?
A. Wish I could.
Q. Any chance of a new solo album from you soon?
A. You bet.
Q. What characteristic do you most admire in others?
A. Tolerance.
Q. What's the oldest thing you own?
A. Me
Q. Years ago, you penned the line, "I'm frightened for your children" within "The Story in Your Eyes", a song which feels like a driving, "carpe diem" anthem about seizing life and redemption in an uncertain world. With appreciation of the role of art in illuminating truth and beauty about our world or for activating people to change the world for the better, what kind of art gives you hope for the future or moves you to want to make the world a more peaceful, just or verdant place?
A. That's  some paragraph. well done. I'm not sure I can see things that way.  I can only hope that Art is relevant. It's completely irrelevant to some. but It's everything to me.
Q. Can you tell us any of the items you donated for the band's memorabilia display case at the Rock Hall for those who cannot get to Cleveland to see it?
A. I gave them the original lyrics to 'Question' written on a bakery paper bag that I only rediscovered recently. Some 60's clothes that featured in old films of the group, a VOX AC 30 that I put together from bits, and the 'lost 12 string' that wrote and played on all the songs before 1968 and was only returned to me in 2006.
Q. Congratulations on the induction of the band into the Rock Hall of Fame.  Is it sweet gratification to have your legacy forever archived for future generations along side other musical greats?
A. I'm extremely grateful to the Rock and Roll Hall of Fame, first for creating the supreme temple to all that has brought endless joy into my life since I was a small boy, and now, after all these years, for including us.It's a privilege to be celebrated in the same building, on the same street even, as my own heroes – Buddy Holly and the Everly Brothers – and now, at last, with us, my heroine Nina Simone.But all the thanks must go to The Moody Blues fans for giving us a wonderful, wonderful life in music – our induction has now validated the music they so love, and I'm so, so pleased, for us all. Yippee!"