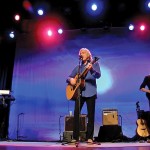 Thu, Oct 23, 14
Moody Blues' Justin Hayward: 'Everything we do is crystal'
The singer-guitarist will perform band hits, solo work at Parker Playhouse.
By Nick Sortal, SouthFlorida.com
Justin Hayward still loves touring with the Moody Blues. But he's equally enthralled with performing on his own.
"I get withdrawal symptoms when I'm not going out there," says Hayward, 68. "I feel a duty to these songs to deliver them, to do something with them and make them live."
Hayward leads a trio that will appear Friday, Oct. 24, in Fort Lauderdale. Much of the concert will feature favorites from the 48 years he has spent as guitarist, singer and songwriter with the Moody Blues, but it also includes solo work, including material from last year's "Spirits of the Western Sky" album.
"In this solo context, you can hear every kind of nuance, just three of us onstage," Hayward says. "Everything we do is crystal. We all have to be on it, all the time. It's a real pleasure, a real discipline that you've gotta play it, and play it right. I really enjoy that, too."
Hayward joined the Moody Blues in 1966, two years after it was formed. From there, the band began a run that has seen it sell 70 million albums, including "Tuesday Afternoon" in 1968, "Nights in White Satin" in 1972 and "Your Wildest Dreams" in 1986.
"Some of them, it's really nice exploring them, and getting into why I wrote them and how I feel," Hayward says of the old songs. "It's kind of a cathartic thing. I don't want to be too serious, because music is ultimately trivial. But as long as we all stay healthy, we'll keep doing it."
While other bands have turned 50th anniversaries into tours, the Moody Blues haven't garnered the attention of, say, the Rolling Stones' golden anniversary tour or the Who's upcoming victory march.
"Well, that's probably down to us. We'd be the ones to have to get it going," Hayward says. "You can't expect people to recognize it without getting it out there, but it's still a remarkable statistic."
He's also realistic that while the Moody Blues are popular, but sometimes overshadowed.
"We've always been on the periphery. We've always been somebody's sort of fifth favorite band," he says. "But that's been not a bad thing. We weren't celebrities, so we never had a real kind of 15 minutes of fame."
Justin Hayward will perform 8 p.m. Friday, Oct. 24, at Parker Playhouse, 707 NE Eighth St., in Fort Lauderdale. Tickets cost $37.50 to $57.50. A VIP package costs $157.50 and includes seating in the first 10 rows, collectible tour items and an autographed poster. Call 800-745-3000 or go to ParkerPlayhouse.com.