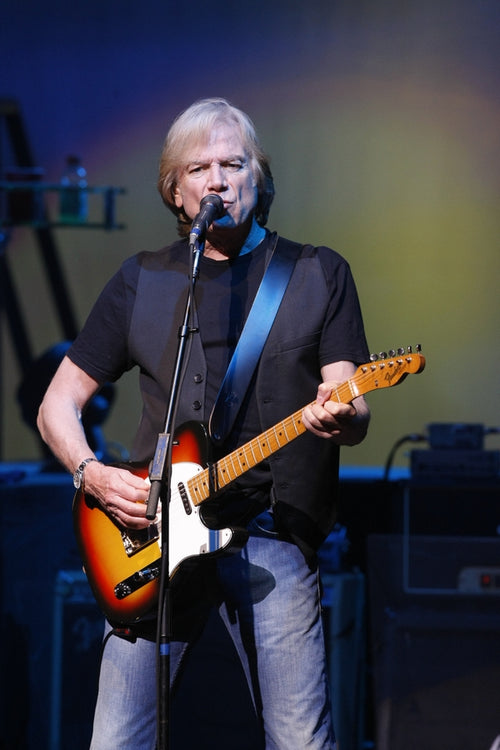 Sun, Feb 12, 12
Prolific songwriter, singer and guitarist Justin Hayward has been one of the point men for multi-million selling rockers The Moody Blues for over 40 years.
By: BRUCE DENNILL
Prolific songwriter, singer and guitarist Justin Hayward has been one of the point men for multi-million selling rockers The Moody Blues for over 40 years.
It was his songwriting that gained him entrance to the band in the first place – an unusual route to take considering that songwriters are often the central figures in a band.
"The times were changing," says Hayward (apparently unaware that he even speaks in lyrical soundbites).
"Bands were not doing cover versions anymore, and there was a movement towards writing songs within bands.
"When Denny [Laine, early Moodies vocalist] left, he took the old approach with him. We con-tinued that way for a while – promoters expected it. We even wore those old blue suits..."
With all his experience as a singer, guitarist and touring and recording artist, how does Hayward view songwriting's place in the creative hierarchy? "
It used to be what needed doing most urgently," he says.
"It would kick off the process; new songs gave us something to work on. And for me, songwriting is the part of my life I value the most.
Touring is great too – hanging out with mates; being in a really good band – but songwriting is like having a room in your house only you have the key to."
Presumably, then, Hayward would offer advice to that effect to up-and-comers?
"Absolutely," he agrees.
"New artists should look at songwriting seriously. It's the most important part of what they do – they will own that part of the music until 50 years after their deaths.
I signed a bad contract at age 16 and lost a lot of the rights to my early songs. So I've never signed another contract.
"All of that said, in the last few years, The Moody Blues have been offered more work then when we were younger, so our live act is also lucrative."
A large part of Hayward's success is his incredible work ethic, as evidenced by the huge number of songs he's written, recorded and covered.
"I've had a wonderful time the last two or three years, when I've been able to record almost everything I've been storing up," Hayward says.
"With The Moody Blues, our biggest competitor is our own catalogue. If we approach someone and say we want to release an album, they always see that as an opportunity to release another greatest hits collection.
It's great to have this new stuff done. It's a duty, but I'm pleased I've been able to do it."
That sort of hard work and discipline doesn't come easy to many people. Did Hayward ever get frustrated with the pace at which his bandmates worked?
"A little bit, in the early days," admits Hayward.
"I was always like a schoolboy with his homework; I had every- thing prepared. The other guys would sometimes have nothing at all, but I could never take that risk."
The Moody Blues were famous for combining rock and classical music, along with the Electric Light Orchestra and others. Arguably, they've endured better than almost all of their competition. Why?
"To my knowledge, we were the first to do it, by about a year, I think," says Hayward.
"We were also fortunate that the first album we did in that style was Days Of Future Passed, which was beautifully recorded, and so has endured. And the introduction of the Mellotron really worked for us and our songs, and other bands stopped using that sound, which made us sound unique."
Use the phrase "combining rock and classical music" now and people will think Il Divo and Josh Groban rather than the atmospheric, orchestral power of the work of The Moody Blues or their peers.
"Everyone uses that phrase now.
The feel of it is very evocative," says Hayward.
"And until this current generation is gone, it may be that trends like this just repeat," he says.
"If you were brought up on early rock and roll, you play a certain way – you slide into the note, for instance – while nowadays, everything is auto-corrected and very precise.
Things will take time to change."