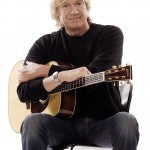 Fri, Mar 13, 15
Justin Talks PBS Package, Solo Albums and The Moody Blues
GuitarWorld.com  
Justin Hayward[/caption] Justin Hayward—whose career has spanned a staggering 50 years—has played a huge role in modern music history.
Whether it's his tasteful guitar playing with the Moody Blues or as a solo artist, or his endless catalog of classic songs—including "Nights in White Satin" and "Question"—Hayward is a true living legend.
Hayward recently assembled a five-DVD package, The Ultimate Collection, which can be yours when you make a pledge to PBS. Included is Spirits…Live, a DVD taken from a recent tour in support of Hayward's 2013 solo album, Spirits of the Western Sky.
Also included are Justin Hayward Live at San Juan Capistrano and Justin Hayward Live at the Rock and Roll Hall of Fame, both of which have been long out of print. Hayward rounds out the collection with two more DVDs,Watching and Waiting and The Story Behind Nights in White Satin, both of which are exclusive to PBS.
I recently caught up with Hayward to discuss the PBS project, his music, guitars and, of course, the Moody Blues.
GUITAR WORLD: How did this PBS project begin?
It really started with Red Rocks in 1992 when a promoter, who assumed [the Moody Blues] had always played with orchestra—when actually, we had not—pitched the idea to PBS about having us perform with the Colorado Symphony. We had never played with an orchestra before, so we decided to give it a go. Then during my recent shows with Mike Dawes and Julie Ragins, a few people from a big PBS station in Minneapolis came down to see it and loved it. They put together this idea, and I really liked it. It's been a lovely relationship.