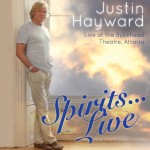 Fri, Aug 22, 14
Justin Speaks with Rock 107FM
Eagle Rock EntertainmentOver the last year or so, Moody Blues frontman Justin Hayward has mounted a couple of U.S. solo tours during which he's thrilled fans by performing stripped-down versions of some of his band's well-known songs, as well as tunes from his latest album, Spirits of the Western Sky. Now, a concert video and album, both called Spirits…Live, have been released capturing a show that the singer/guitarist played last August at the Buckhead Theatre in Atlanta.
The video, which is available on DVD and Blu-ray, and the CD include the entire set from the gig, which closed out Justin's 2013 solo outing. Hayward tells ABC News Radio that he's "very pleased" with the performance, at which he was accompanied by a three-piece backing group — young guitar virtuoso Mike Dawes and keyboardists/backing singers Alan Hewitt and Julie Ragins.
The 67-year-old British rocker points out that while the concert does showcase a lot of his new solo material, fans who are patient will be rewarded by hearing renditions of many Moody Blues hits and some lesser-known gems. Among the classic tunes featured are "Tuesday Afternoon," "Your Wildest Dreams," "Question" and "Nights in White Satin," while Justin also digs deeper into the Moodies catalog to play songs like "It's Up to You," "Lovely to See You" and "New Horizons." Another highlight is a rendition of "Forever Autumn," a solo Hayward song featured on the 1978 album Jeff Wayne's Musical Version of The War of the Worlds.
Hayward says he really enjoyed playing his songs live with a smaller group of musicians. He offers as an example the Spirits…Live version of "I Know You're Out There Somewhere," "where you can hear it just pared right down, and to see what it was really like [when I wrote it,] and just to concentrate on the vocal performance."
As an added bonus, the DVD and Blu-ray include some extra video footage that, as Justin points out, includes "about another 70 minutes of stuff, backstage stuff and behind-the-scenes things, which is quite interesting too."
Hayward embarked on a second U.S. solo trek during the late-spring of this year, accompanied then by only Dawes and Ragins. He's currently touring with the Moody Blues, but he tells ABC News Radio that another solo outing "could be on the horizon."
"I'm certainly getting a lot of interest for my solo show, with me and Mike…and Julie, from around the world," he reports. "And we're having to consider that, and look at that."