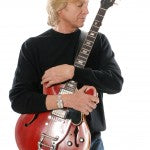 Thu, Jan 29, 15
JUSTIN HAYWARD: SPIRITS…LIVE Premieres February 28, 2015 on PBS
Justin Hayward, the legendary lead singer, guitarist and songwriter for The Moody Blues, recently embarked on a series of solo concerts across the United States. His rich vocals and incredible guitar playing served to highlight classic Moody Blues tunes plus songs from his latest solo album Spirits of the Western Sky.
Justin's PBS show was recorded live at the Buckhead Theatre, Atlanta's premier intimate theatrical venue. This new concert special showcases a powerful performance from an artist who has played a significant role in the history of rock.
JUSTIN HAYWARD: SPIRITS…LIVE is part of special programming premiering on PBS stations beginning Saturday, February 28, 2015 (check local listings).
For almost fifty years, Hayward and The Moody Blues have been musical mainstays on concert stages, recordings and the airwaves. The band has sold more than 70 million albums worldwide and has been awarded 18 Platinum and Gold Discs. And just recently, The Moody Blues were inducted into the Ultimate Classic Rock Hall of Fame.
JUSTIN HAYWARD: SPIRITS…LIVE features Moody Blues classics including "Tuesday Afternoon" and "Nights in White Satin," (one of the biggestselling singles of all time) plus other gems from the band's catalog, along with Hayward's newest songs from his solo career. The program also features two keyboardists currently touring with the Moody Blues, plus a virtuoso performance by extraordinary guitarist Mike Dawes.
Usually, Hayward plays to huge halls or arenas with a much larger band. But the Buckhead Theatre is a smaller venue that enabled the four performers to play with an intimacy rarely experienced before. As a result, viewers are treated to a performance that has both excitement and a rich sense of connection to the legendary performer.
PBS special programming invites viewers to experience the worlds of science, history, nature and public affairs; hear diverse viewpoints; and take frontrow seats to worldclass drama and performances. Viewer contributions are an important source of funding, making PBS programs possible. PBS and public television stations offer all Americans from every walk of life the opportunity to explore new ideas and new worlds through television and online content.