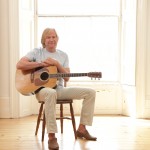 Sun, Feb 23, 14
Justin Hayward Discusses Favorite Album and More
1. What is your favorite album of all time and why?
A. The Buddy Holly Story Vol 2
Because it contains the recordings that have meant the most to me since I was around 12 years old. Every song touched me. Although I owned records of Buddy and the Crickets before Buddy died, this album really touched me - and I loved the 'overdubbed' versions of his home recordings too - made all the more poignant after I had heard the original New York apartment tapes. But it was around this time in my life that most of us teenagers were carrying around our records when we went to our friends houses to be together and listen to music. I still have most of my singles (most of which were bought before I had my own record player) and I would play them at other boys and girls houses. But this was the first album I owned. The quality was great, the sleeve, with the outdoor photo of Buddy with a far away look in his eyes, is very evocative. It meant the world to me, and of course, I still have it, even though, once again, I don't own a record player.   I played this album over and over and over, and I still never tire of it and love it just as much now as I did then.
2. Are there any musicians you wish you worked with but didn't have the chance?
A. It's a question I'm often asked - I don't know why.  To have regrets about this particular unfulfilled desire is something that, in my experience, most musicians don't have - but I suspect it seems an obvious question that a fan would think was important.
But I think I know what the questioner means - and to try and give just one instance of my own feelings, one of my biggest pleasures is to be friends (and play guitar with) Bruce Welch, because we know and love the same songs. I also got to play on stage with all the Shadows, past and present, at the London Palladium with Mart Wilde a few years ago. That was an unforgettable moment, and a day I will treasure. I am a huge Cliff and the Shads fan.
And on one magical night in the nineteen sixties I sat around playing guitar with Donovan and George Harrison - but the question says 'worked with', and that was never work, just fun.    I play with pals for fun, not work.
When it comes to making records I am lucky enough to have worked with players that I know and love, and that, in my opinion are the best in their field - from Peter Knight to Dave Mattacks to Lele Melotti. Anyone who knows me, accepts that I am firm about what I want, and recording is more fulfilling for me when my own ideas are fully explored. Having said that, Mike Pinder playing those Mellotron phrases between the lines on 'Nights' was something that would never have occurred to me, and it added greatly to the recoding. But that kind of contribution is rare - and if there is to be a guitar solo I would rather play it myself!