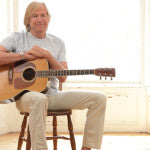 Fri, Nov 21, 14
Justin Hayward delivers spirited show in Chicago
The intimate atmosphere of Chicago's City Winery proved the perfect venue for Moody Blues guitarist and songwriter Justin Hayward to make musical magic.
Hayward performed to full houses during three shows Monday and Tuesday at the supper-club like theater. During the 10 p.m. Monday show, Hayward was in stellar form as he offered a blend of favorites and contemporary material.
"We're going to be doing some new things and some old things in this show," he told the crowd. The solo concert largely put the focus on tunes from his latest solo album, released last year, "Spirits of the Western Sky."
The current tour also celebrates the release of "Spirits …Live – Live at the Buckhead Theatre," which was released in August on DVD, Blu-ray, CD and digital formats. The album was recorded while he was on a solo tour in 2013 to support "Spirits of the Western Sky."
During the concert, Hayward was a personable songsmith as he not only delivered passionate renditions of beloved tunes and newer selections but also gave a bit of insight into what inspired the songs.
On the show playlist were "One Day, Someday," Moody Blues' hit "Tuesday Morning," which he opened with, the upbeat "Your Wildest Dream," "The Eastern Sun" and the poignant "The Western Sky," which Hayward described as being inspired by growing up in Swindon, England.
"My late brother and I shared a room at the back of the house," he said, adding from the window in that room they saw whatever "weather was coming," beautiful sunsets and more from "that Western Sky."
Prior to the closing number "I Know You're Out There Somewhere," Hayward treated fans to a strong version of the iconic "Nights in White Satin," the musical masterpiece he penned.