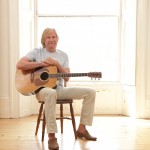 Fri, May 09, 14
Justin Hayward at the Colonial Theatre: The mood is serene
Berkshireeagle.com
PITTSFIELD -- Moody Blues guitarist / songwriter Justin Hayward has a problem when it comes to choosing material for his solo shows.
"When I'm out with the Moodies, there is such a body of work -- 40 years worth and there are songs that you know you have to include," he said in a recent phone interview. "It comes to more that a hour's worth of material and you're constantly agonizing over what you're going to have to leave out. When I'm doing my solo show, all I have to worry about is what I'm going to include. It's really much less stressful."
If that's accurate, then the stress-free Hayward will be bringing his solo show to the Colonial Theatre 7:30 p.m. on Tuesday.
Tuesday's gig will be the first show of Hayward's solo tour. But he is also performing with the Moody Blues this summer, as well. For example, three nights before Pittsfield, Hayward and the Moodies will be playing a show in Boston.
"Yes, I've already done it a few times before this tour," he said, chuckling. "It takes a little planning. But I'll be there, don't worry."
Technically, the author of such Moody Blues classics as "Night In White Satin," "Tuesday Afternoon" and "Gypsy" won't be completely alone up there. English guitar prodigy Mike Dawes, already a legend in his own right, will be backing him.
"Michael is amazing," said Hayward. "He's worth the price of admission by himself."
The two will be joined by vocalist Julie Ragins, who has also performed with the Moody Blues.
Hayward will be touring solo in support of his critically-acclaimed 2013 solo disc, "Spirits of the Western Sky."
"A total labor of love," said Hayward, describing the album. "Very personal songs I could never record with the Moodies. I'm very proud of it." Hayward admitted that he didn't set out to record an album.
"I was doing a lot of work in the studio," he said. "Some for the Moody Blues, some for other people. But all that time, I was writing songs and collecting songs. And after a while, one of the engineers I was working with said, 'You should put some of this material out; its very good.' I was flattered and I started to think about it. Eventually, I decided he was right."
Hayward said his solo shows will differ considerably from the pomp and flash of a good Moody Blues show.
"I would think so," he said. "For one thing, it's much more serene. It's just me and Mike and Julie, out there. I think because the music is more personal, it will be more of an intimate show. I think the audience will enjoy it."
But audiences can expect a few Moodies tunes as well.
"Oh yeah," he said. "Those Moody Blues songs are part of me, as well. I can't really ignore them."
The Moody Blues have been to the Berkshires several times, but Hayward said he has heard nothing but good things about the Colonial Theatre.
"How are the acoustics?" he asked a reporter. "I love playing in these old theaters. They're so majestic."