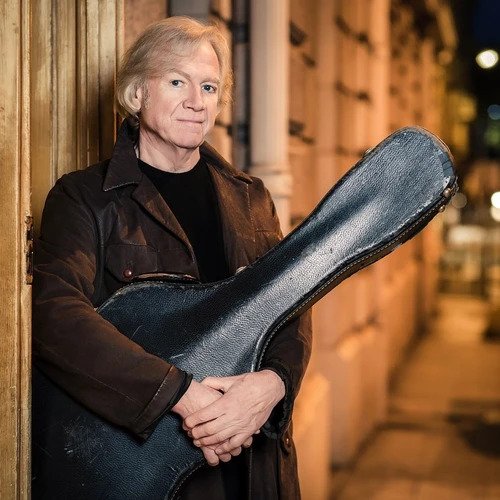 Tue, Jun 05, 12
June 2012 Q&A With Justin Hayward
1.If your Gibson 335 guitar could speak words, what would it say?
'I love you too man'
2.What would the 19-year-old Justin Hayward think of the Justin Hayward of 2011?
Mmm   He's old – but there's something about him…
3.What's the strangest thing you've ever autographed?
A cheek
4.Where were you and the band, literally and figuratively, in that cave around that fire, on the sleeve of the album, To Our Children's Children's Children?
Albert Embankment, opposite the houses of parliament, at the vast beautiful Decca building, in the studio of the Decca photographer.
5.Did you ever envision yourself as the 'mole' in the haunting song, Watching and Waiting?
I don't think I was suggesting I was a mole – but then I am kept in the dark a lot!
6.Do you think electric guitars improve with age or not?
Yes, absolutely – if they get played – if they don't they start to die.
7.During the time of your album "Songwriter" you'd said you were working on a concept album about a girl, with a simple plot, with dialogue between the tracks.  Have you totally decided never to let this see the light of day?
I wish I remembered what you are talking about – but then I wish I could remember what on earth I was talking about – I think I was a little in love with Adj Webber then, who sang on the album with me.
8.You and John Lodge did, indeed, actually film an episode of Miami Vice with Don Johnson, in London? Do you know if it ever aired? It did – we weren't in it!
9.What's your favorite track on your solo album, Moving Mountains, and why?
Moving Mountains – it's so simple, and I made the recording at home in my music room. It was written in Cornwall. Someone stole that lovely keyboard though, which makes the recording all that more precious.
10.A number of people (roughly 500, many of them celebrities) are planning to take a flight 62 miles up to the edge of space, with freefall time on the way down to experience weightlessness on Virgin Galactic's private suborbital SpaceShipTwo for the mere price of $200,000. If someone gifted you with a ticket, would you go?
Why? - you can experience an hour of weightlessness on the flight back fro South Africa anytime.
11.By whom or how did you get notified you were to receive the very well-deserved ASCAP Golden Note award in 2000?  Were you surprised? From my fellow west-country friend and songwriter Roger Greenaway, who  called me and told me, both times. He was working for ASCAP. No I was not surprised – Wildest Dreams and I Know You're Out There were huge for a UK writer. And also that day they gave awards to Simon Climie and Phil Collins and Billy Ocean, who like me all had written recent huge hits (singles) in the US.
12.Do you keep the songwriting process going even during tours?  Isn't it such a different part of your mind?
Sometimes I'm in two minds.
13.Had you had experience with the Asian musical instrument, the gamelan, before using it in the beginning of the song, Haunted?  Was this your idea?
I was looking for a 'haunting' sound (is there one?  No – not a door creaking!) I liked the sound of the 'sample' Danilo had of it, so I used it. Nice isn't it?
14.Has there ever been a project outside of the band that you had to say no to, that you later wished you had participated in?
There's been quite a lot that I was persuaded to say yes to, that I wished I had said no to!
15.When your new CD is released, do you plan to do a solo tour to help promote it?
Could be nice.
16.How often have you been approached to do TV commercials?
Mmmmm…can't remember one, in this life. I did a Typhoo tea ad before I joined the Moodies. It was called 'Any time's tea time' – which is true. Oh,.. There was the Coca Cola one …pretty bad I thought.
17.After years of not playing the song "You And Me" on stage (save for the brief Blue Jays tour, of course), how difficult was it to relearn that song? Were you personally satisfied with the results?
I don't remember playing it with Blue Jays – are you sure?   I have always loved it, and when Steve Chant included it on his 'walk up' gig tape, everyone backstage said 'I love that song' so we did it - and we love it. It's weird only playing a song for a day or so in the studio, and then coming back to it years later. It's one of my show favourites. I do hope it doesn't get dropped for equality reasons.
18.As "Nights In White Satin" continues to be used in movie soundtracks, what are your thoughts about the recent usage of it in "Dark Shadows" and the French movie, "House Of Pleasures," aka "House Of Tolerance," aka "L'Apollonide: Souvenirs de la maison close?"
Loved it in Dark Shadows – liked the movie – although you know I don't own the copyright so I don't have the say in where it is used.I don't know the other movies… You watch some strange things!
19.On his website, Uri Geller mentions that in 1994 he made a version of your song, "Nostradamus" with you. Can you tell us how that came about, and what you thought of his version?
I knew Uri before; he is a lovely man, such great fun to be with, so alive every moment. He loved that song – we recorded it in a little     studio in Wimbledon and had a great time. Remarkable things happen around him.
20.Have you ever considered making a compilation of some of your non-album songs that you worked on outside of the band over the years?
Not yet – it an interesting thought.
21.Are there any future plans for a live performance DVD?
Nothing concrete yet.
22.Did you and/or the rest of the band get a chance to chat with 10cc members at the South African shows? Were you able to watch their opener?
Sure – great guys – great songs. I've known them for more than 40 years now anyway
23.It's been nearly 17 years since the band played in South Africa, from your view, what was different this time, and what was the same as you remember? Did anyone get in a game of golf this time?
No golf was played, to my knowledge. Apart from the tragedy with Gary - this time was fabulous. We loved every minute Great crowds, real gigs, and vast venues, perfect.Please write the promoter to ask us back!