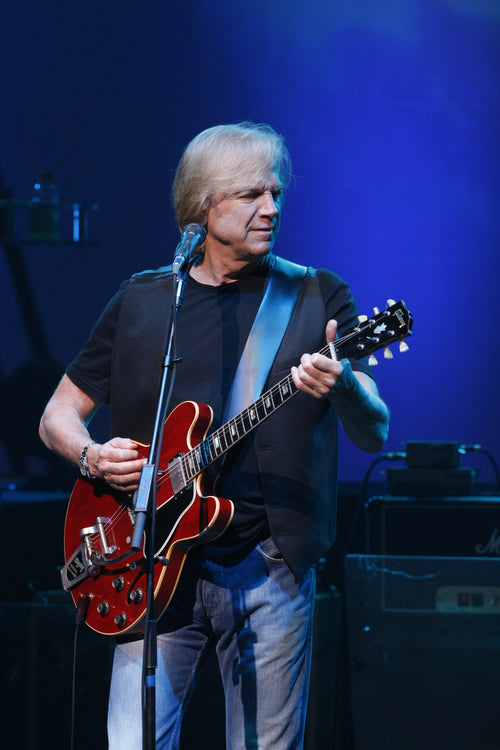 Mon, Aug 24, 15
Interview With Justin Hayward
Justin Hayward has been the principal songwriter, guitarist and vocalist in prototypical prog rocker band The Moody Blues for nearly 50 years.
He's the voice of such classic songs as "Nights in White Satin," "Tuesday Afternoon," and "Your Wildest Dreams," and the protagonist in the group's 1973 hit "I'm Just a Singer (In a Rock and Roll Band)," if you will.
So if anyone knows when — or whether — the group will ever release another proper studio album, it's Hayward. But he says he simply doesn't know.
So after not having a new Moodies album in a dozen years, Hayward nearly two years ago put out a solo disc, "Spirits of the Western Sky," his first in 17 years.
And now with a break from The Moodies' incessant touring, Hayward is on a solo jaunt, playing not only songs from that disc and some of the other half-dozen solo albums he's released over the years, but also stripped-down versions of Moodies hits and deep cuts he says have never been played live.
He stops at World Cafe Live in Philadelphia on Monday and Musikfest Cafe at Arts-
Quest Center in Bethlehem on Wednesday.
In a recent telephone call from his home in England, Hayward discussed the new tour, the history of The Moody Blues, and the future of both.
Here's a transcript of the call:
JUSTIN HAYWARD: "Hello John, how are you?"
LEHIGH VALLEY MUSIC: Just fine, thanks. Thanks for taking time to speak with me today.
"Not at all. My pleasure. Thank you for calling, yeah."
So tell me about the Watching and Waiting tour. What's it going to be like? What are you going to do? What songs are you going to perform? Or what types of songs are you going to perform. Just give me a capsule of what it is.
"Well, I'm going to be doing quite a lot of things that I wrote for the Moody Blues and that have never been done on stage before."
Wow.
"And I think that are more suited to this kind of acoustic format that is closer to the actual recordings than the big production with two drummers that the Moodies could do, that I could do with the Moodies. So there's some interesting things I'm revisiting and looking at the reasons and the stories behind some of these songs – from the late '60s particularly.
"And of course I do some things from the [solo] 'Spirits of the Western Sky' album that I had out recently. So that's just fine. And then really I'm looking at the songs … I'm doing the songs in my own original demo form; how I'd present them originally. And, you know, I was always very lucky with the group, that they were able to put those acoustic-guitar-and-voice and my own feelings into it kind of up front on the recordings, which was very good. And then I get to do 'Forever Autumn,' as well, which was a big hit for me, but I rarely get to do it onstage, so I'm very pleased to have that.
"And they [people at the show] can also see two of the greatest musicians that I've worked with: Mike Dawes, a truly incredible young English guitar player, and Julie Reagans, who's one of the best musicians I've ever seen—certainly the best I've ever worked with."
And when you actually play your set, is it only you, or do you have any backing musicians?
"No, I have Mike Dawes on guitar. So me on guitars and Mike Dawes on guitar – acoustic and electric – and Julie Reagans on keyboards and assorted percussion and vocals. And she plays a lot of different things. But yeah, we present the songs – the three of us present them and it's a lovely atmosphere. We all get to contribute, which is nice.
"So we all have a love of this music and these songs, so that comes across."
How did you decide to do a solo tour now, and then what brought you to do them in this format?
"Well I've always been lucky enough to have support from a label – whether it be Decca, Universal , Polygram and now Eagle Rock for new products and an outlet for thing that I wasn't able to do with the Moodies. And really then I did one tour, it was like a promotional tour for the 'Spirits' album, and then the promoters just seemed to love it. And so they asked me back, and I think then a DVD followed and it's just sort of snowballed from there, really. I think it's because it's another look at the Moodies – particularly another look at the earlier things that we did in a different format.
"And like I say, probably truer to the original recordings than we could do with the big production that is the Moodies. I'm lucky to have that, you know? One makes the other possible, really."
My reaction to that is that fans, obviously, love the production of those songs. So it's not as if those were the wrong things to do [laughs].
"No, no, not at all. Yeah, so I think I'm always lucky that the producers always either used my demo or put the acoustic that originally was there or the vocal up front. And so I think we tried so many things with The Moodies, and if you have a big, loud format, some things just don't work at all. And it's sad to see those fall by the wayside. So I'm having this look at the other side of those songs."
You mentioned 'Spirits in the Western Sky.' What were you looking to do when you put that album out? What was your creative inspiration for that?
"Well, I was spending a lot of time in the studio – mostly working for Universal and doing mixing for different projects and for Eagle Rock in particular for the Isle of Wight, and then remastering The Moodies' stuff. And I was also doing little bits and pieces over the years and then I was spending so much time in the studio, my engineer — my partner that I've worked with for quite a few, 20-odd years now – I think we both decided, 'Listen, we've got a lot of demos that we've done, it doesn't seem like there's going to be a Moody Blues album, and so let's record them properly.
"And Eagle came in and really supported that. And so I so many songs, and it's not fair to let these things – it's not right to just keep them in a drawer somewhere."
Yeah. You mentioned thee history of The Moodies. What do you think is next for the group, and how long do you expect to continue to do that?
"Well, John, that's a question, isn't it?"
[Laughs]
"I mean, you could have asked me the same question in August 1966 and I'd have said, 'About a month.'"
[Laughs]
"I'm still no wiser now. I know that we have things coming up early next year. We have a cruise, another Moody Blues cruise, and I know there's a lot of love out there for us and the band and, you know, we're very, very lucky to have that. How long it will go on, I don't know. You know, the three of us now, it's the happiest kind of incarnation of The Moody Blues I've ever been in."
Wow.
"Yeah, I think so, because you're left with the three guys who really wanted to tour, out of the five of us. There were five of us from '66 onward. And so I wish I could give you an answer. I don't know really what's next apart from the touring plans that we have and hoping it'll stay together and somebody wants to buy a ticket to see it."
[Laughs]. Well, I have a couple of reactions: First of all, I saw you guys – you guys actually played Bethlehem last summer, I guess it was – played our Musikfest festival.
"That's right, yeah – we've done it … well, we've played Bethlehem a few times over the years, yeah. Very nice."
Yes, and obviously the crowds loved the presentation. And if it's a decision of whether people will come to see it, I think they will. [Laughs]
"Oh yeah, yeah."
The other thing I have to ask is whether recording new stuff by The Moodies out there anywhere? Is it a possibility?
"I don't know, I just don't know. And I've got a feeling that if … the trouble is, I think it would be just kind of solo recordings that you'd call Moody Blues, and I'm not sure that that's fair to do anymore. We've done quite a bit of that, and that's not really …I don't think that's in the spirit of the band.
"But I think if there's something new it'll be in kind of an audio-visual format, and I think DVDs seem to be what there's a demand for the group, and I can see that being the next step. If anything new comes out, it'll be in that kind of format.
"But I mean, listen, John, I'm in the center of it. You know, I'm the guy standing in the middle of The Moody Blues. And if I don't know, then there's nobody that can really help ya."
[Laughs] Yeah, that's a good point. This is always an awkward question to ask but I have to ask it of groups that have such a legacy as you do: Do you ever reflect on what you've accomplished in all these years? I mean, how influential you've been and the music you've put out? I mean, do you ever look at it in those terms at all?
"Uh, I find it hard to because we're a group that's often kind of gone under the radar. And we've traveled such a different road. I think that through the '60s and '70s, we were lucky to have a record company that didn't insist on having an A&R guy standing over us, so it didn't demand a lot of hit singles from us. So we were able to travel a kind of different road.
"But then we didn't really employ a publicist, either, so we didn't become celebrities or personalities. It was such a long, slow thing. I mean 'Nights [in White Satin, The Moody Blues' biggest hit] came out in November of '67, got to No. 1 in 1972. So everything kind of happened slowly.
"But I do look back on the thing that I love most of all, that I can reflect and I'm proud of most, is the period in the '80s with '[In Your] Wildest Dreams' and 'I Know You're Out There Somewhere.' Because that was a wonderful time. I was straight and I was able to enjoy it and I wasn't in some kind of race like we thought we were in the '60s, trying to get it all done before … 'Cause people said, 'Hey listen, it'll be over tomorrow.' That kind of thing. And so I really enjoyed that part of it, and I loved the '80s particularly for that. And to have a couple of those big videos. And I think the songs that we did then –or the audience that we developed then are probably the audience that stayed with us and that came down.
"But I don't look back, because I don't see us listed in many peoples' favorite bands or anything like that [laughs]. But I do look back at some of the albums, particularly 'Days of Future Past,' and even though we can't really take credit for the whole concept of that, I think it was changing – it changed things in the music business. Because we were taking stereo seriously, and it just happened to be at the birth of FM radio, and out stuff was perfect for it. Our stuff was much better recorded than anybody else in the '60s.
"And I think everybody did listen – all the musicians listened to that album and thought, 'Wow, we have to change the way we record. FM radio is coming in. And I think that that's probably the thing I'm most proud of. Is that first album."
I have to admit I think you're not giving yourself enough credit. I think that you guys have been incredibly influential, and that album to my thought points that out. After that, it sort of opened up the possibilities of what you could do with music, with that type of music – merging classical elements into music. So I think you guys have an incredibly wide influence.
"Uh, I hope so. I hope so, yeah. I think for some people, yeah, I agree with you. But I think it'll be … we'll be remembered for that album, probably. Probably, yeah."
So if it's difficult to talk about new Moodies music, is there any possibility of you doing solo music after "Spirits of the Western Sky"?
"Sure. I mean, I just did a video just recently of a string quartet version of 'Story in Your Eyes,' which is up YouTube now, and the reaction to that has been phenomenal. And I think I might investigate that more, because I'm with a couple of Italian guys who are … great kind of classical musicians that like that sort or crossover and a great young string quartet. And that's an interesting avenue.
"But I know that now that I have a label that's supporting me and just saying, 'We'll take what you give us – just go out and do it,' that's a wonderful kind of safety net to have, really. I won't be doing stuff in the dark or risking whatever to do it."
You mentioned the fact that The Moodies have played several times in our area. I know that you've played the State Theatre in Easton, Pennsylvania, several times.
"Yes."
And you always get good response there. Do you have any memories of those concerts or of Pennsylvania in general?
"You know, it's always been a strong hold for Moodies, which is why the promoters are always happy to see us and they're always phoning up and saying, 'Are you coming out?' you know, kind of thing. 'Do you want to do something?' But I think it always has been, right from the beginning, right from when, in the '60s, we came through there on a tour with Humble Pie, and we came with Cream on their farewell tour, and Canned Heat –we were opening for other people.
"But I think it's always been such a strong music area. It seems you can do a gig that's 70 miles down the road, and you'll still pull a crowd from last night's concert. That's why we're asked to come back.
"And the Bethlehem thing, first of all, is impressive in its location and that whole industrial thing around it is interesting, too."
Anything else?
"John, how kind of you. I think you've covered it. All I'm trying to do is sell a few tickets and some DVDs. But it's a show that's full of love, an if you want to hear the story of what's behind some of this stuff, then this is the place to come. These are like my own original demos for these songs, so that's the point I'm trying to get across.
"And also, I want to spread the word about Mike Dawes. He's one of the finest players I've ever seen. One of the new generation of British guitar players that is really making a name. I shall be lucky to hold onto him in the next year or so, that's for sure."
JUSTIN HAYWARD, 7 p.m. Wednesday, Musikfest Cafe, 101 Founders Way, Bethlehem. Tickets, $52, $67, www.steelstacks.org, 610-332-3378.
ALSO, 8 p.m. Monday, World Cafe Live, 3025 Walnut St., Philadelphia. Tickets: $75 (other areas sold out), www.worldcafelive.com, 215-222-1400.