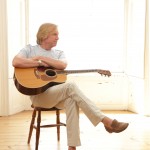 Tue, Apr 22, 14
Guitar Making and More with Justin Hayward
Justin was recently asked about how guitars today compare to the old. For instance, a 60's Strat compared to a model made today...and if Justin prefers American made guitars...
There's no doubt that the best sounding, and best playing guitars that I have, were made in the 1950's and early 1960's. 
I think that was the best era for guitar making - when real craftsmen were able to choose the best woods, with no restrictions, and the art of guitar making was treated with respect and carried out with real integrity. 
In the mid 1960's we moved into the cheap and mass produced era, and it wasn't until the late 70's and early 1980's that the honour of guitar making was born again, with Taylor leading the way. In the last 15 years the art of the select, discriminating guitar luthier has flourished, mostly in the USA. I have two Collings guitars, made in Austin Texas, both of which I purchased 'on the road' at Gruhns in Nashville - one lives at home in my music room and is featured on recordings, the other lives on the road, and copes well with the tough life of a road guitar. They are both true classics.
I would also give great credit to James (Jim) Olsen as being one of the greatest guitar makers ever. The guitar that I bought from Jim in 1990 (89?) is one of the most beautiful and trustworthy guitars I have ever seen, let alone owned. It delivers every single night - it's a true friend - right up there with my 1963 Gibson 335 and my 1955 Martin D28. I came across another one recently and it was so beautiful, in sound and looks, that I had to tear myself way from it - it was destined for another player. 
That is a curious thing about guitars - sometimes I'm convinced that a certain guitar has a destiny with someone else, and in fact, in the early 1980's I sold a whole attic full of wonderful guitars because I believed they could find a home elsewhere, with someone who would cherish (and OK - love)  them.  They were too good to be resting in my attic and needed to be played every day to keep them alive. I feel that the wood needs to resonate regularly to keep it beautiful, in feel and sound. Instruments can seem to be dying if they are not played. The most hard worked guitars are the most desirable. Guitars that play in a smoky club for years are often the best. Guitars love to be played. 
The only guitar I regret selling was a 1964 Strat that played on the Octave, LDV, and on all my 1980's solo albums. It was as smooth as silk, it played like a dream and sounded sublime. But, I still felt at the time that someone else could use it more - so it moved on. I'm sure whoever has it now must treasure it - as well as being comforted by the knowledge that it's now worth at least $25.000 to $30,000, even if you could actually find another one - which is not easy!
I recently discovered McPherson guitars. Wow! what a find. I now have a McPherson 12 string - (the acoustic 12 string may be the hardest guitar for a maker to get true and clear, with exact intonation), and I have fallen head over heels for it.  McPhersons are truly special and a quick look at the McPherson website will tell you why.  It's going to have to work for it's living though as it's on the road with me, but I have to say, I have never owned a 12 string before that's in it's class.
Yes, in my opinion, American made guitars, and American guitar makers, lead the world. I dreamed of owning an American guitar when I was a boy - that hasn't changed.
!n 1985 I was invited to visit the Kalamazoo factory in Michigan that was the original home of Gibson guitars just after three great craftsmen, former Gibson employees, were starting up Heritage Guitars. I met the man who knew my 335 (Gibsons are easy to identify through their serial numbers) and had seen it being made and even had a hand in it. He told me that the very next guitar on the line, made with exactly the same men and machines, with exactly the same wood and parts, just wasn't the same and didn't have the same feel or vibe. That's the way it goes - like life. It's ultimately a mystery - which 'mass producing' guitar manufacturers will tell you has been solved - it hasn't, thank goodness. 
Love,
Justin